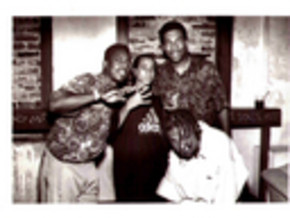 Well folks, THAT time is now upon us — the debut of THE MUSICOLOGY SERIES, starting with 2101: A Quick Start Guide to Music "Biz" History. I can't begin to tell you the story of the making of this book, but I CAN let my publisher give her thoughts about what we are about to release to the world at large…..
Okay Loretta Walls at Nu Cherte Publishing (www.nucherte.net), the floor is yours!
Hello everybody! Have you ever wondered what it would be like to work in the music industry?
Meet L. A. Jackson, a man who has truly worked in the industry and has hands-on experience with some of the artists you've grown to love. L.A. comes to the table with an abundant wealth of knowledge with his forthcoming release, Musicology 2101, A Quick Start Guide to Music "Biz" History.
In this book, the everyday music lover may discover some long lost secrets about their favorite artists, along with some useful instrument information. L.A. took the time to share what he's learned the hard way, making it easier for those that may wish to endure such a fast-paced business. Whether you're a music aficionado or shy novice just learning how to play an instrument, his book has something for your mindset on every level. Musicology will be released in e-book format on December 1, 2012 and in paperback by the end of 2012.
L.A. is also the owner of MKM Multimedia Works, a rising company filled with a variety of talents spanning the music industry. There will be more forthcoming news but for now, mark your calendars for December 1st, 2012 and get ready for what some say just might be "the best music history book this side of the millennium." And for the die-hard music heads, you can send an email to damusicmon@facebook.com for a November early release date!!
THANKS FOR SUPPORTING HIGHER EDUCATION and HAPPY THANKSGIVING!!!
PICTURE = Kris Kross
[youtube mAuCBnQEAm8]
MP3 AUDIO: Download my interview with DJ Pain for FREE – www.reverbnation.com/mkmexclusives
Take care,
LA Jackson – musicmon101@gmail.com
"NOTHING IS IMPOSSIBLE IN GOD'S WORLD" – MY BOOK'S FINALLY READY TO GO!!
Coming your way NOVEMBER/DECEMBER 2012: the MUSICOLOGY book series in e-book and paper versions!! Learn more at http://www.nucherte.net/#!la-jackson/c13xy…..get your taste buds wet at: http://ezinearticles.com/?expert=La_Jackson
Link up with me at www.facebook.com/damusicmon
TO ALL PARENTS: Get this Bernard Percy book, for you AND your kids!!!   Just go to www.howtogrowachild.com – I know the kids that helped write it!!!
Get the new MKM EXPOSER VOLUME 2 Compilation –   NOW through www.bfmdigital.com and at Amazon, eMusic, imeem, Yahoo Music & iTunes: http://itunes.apple.com/WebObjects/MZStore.woa/wa/viewAlbum?id=310798432&s=143441
See our affiliated artists at www.reverbnation.com/label/mkmentertainment.   With more than 100 featured acts, millions of exposure views and over 1.5million plays… we are STILL counting and keeping it moving right along!!
We are building our channel: http://www.youtube.com/lajackson