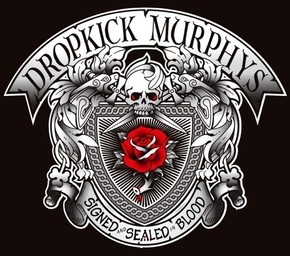 Boston-based band Dropkick Murphys are excited to share their new music video for their song "Rose Tattoo." The video features contributions by the band's most devoted fans, whom the band asked to get tattoos of the new album art, and then send in videos and photos of their new ink. "Rose Tattoo" features Winston Marsalis from Mumford & Sons playing banjo. The video premiered on RollingStone.com on Wednesday, and you can watch the video on Youtube by clicking the link below:
[youtube 9d8SzG4FPyM]
"Rose Tattoo" is one of the songs off the band's forthcoming album, SIGNED and SEALED in BLOOD, to be released January 8th via Born and Bred Records. Presale for the album will begin on November 23rd. This pre-order will include a special offer where the albums will be bundled with tickets for the band's February and March St. Patrick's Day Tour (dates to be announced).