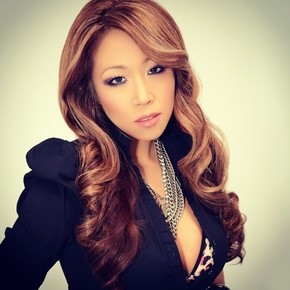 Hello Skope world, what a wild week. First off I want to send my love & prayers to folks in NY/NJ who have to deal with the aftermath of Hurricane Sandy. With time, you will recover so keep the faith. Next up I want to mention that music dreams do come true. In July of 2010 the Skope Live! crew hung out with Nick from Karmin on Youtube/skopetv. Real cool guy and now 2 years later Karmin is becoming a household name and is onto the big time. I can see that for my guest today by the name of Sophia Shy. Sophia Shy has got the whole package from sound to image but most of all she has confidence and ambition. Sophia has a single out now "Won't Stop Your Love" that I cannot get out of my head. Join me today as Sophia Shy opens up about her new single, how she stays looking amazing, women's issues in this election, and much more!
Stoli: Where are we talking from today and what will you be for Halloween this year?
Sophia Shy: I'm actually from the Niagra region… But all my music was recorded out of New York and my music is being pushed only in states right now. So I consider NYC   to be my "music" home base. As far as my costume for Halloween I havent quite decided that. Though my fantasy costumes linger from dressing up as a cool anime character (which i have these made already from my costume designer) and strangely enough a vampire. Their technically dead but alive for so many years.
Stoli: Would you say you are more about the Trick or the Treat?
Sophia Shy: I'm a bit of both. For trick its gotta be nightmare related and for treat I get to put in your bag whatever I want, make it look extra yummy, but ya never know what the ingredients where! LOL.
Stoli: At what age did you start listening to music and was your family supportive?
Sophia Shy: I started listening to Madonna, Michael, and Whitney at the age of 8. It's the first time I found music and it became my new friend. When I went full into it later on my parents were supportive as a hobby but not as a profession. " I rebelled! I'm still here doing it ".
Stoli: Is Sophia Shy your real name and if not how did you get that alias?
Sophia Shy: Haha, SOPHIA SHY is not my real name. I wish it was! however people call me shy all the time now and we decided a year ago to kick in Sophia… The reason people call me Shy is because the other name was going to be SHYANNE, but we got rid of Anne, sounding too country to them and they call me Shy because they say I am shy in my personality. which i am to some degree.
Stoli: I am really feeling your new single "Won't Stop Your Love." When did you record that track and where can we buy a download?
Sophia Shy: Thanks so much, I'm glad you like the song! I recorded this track last summer with 7Aurelius Mega Producer in New York! Turned out real well… WONT STOP YOUR LOVE is available on itunes and every online music store.
Stoli: When you write lyrics do you let the fans know about your real life 100% or do you hold back?
Sophia Shy: I usually mesh in a bit of both, I try not to do songs that really arent apart of a related emotional base with fans. Lucky enough I am a gemini so I have many sides to me. (;
[youtube TfT0SG1ilaU]
Stoli: I am really feeling the animated video for "Won't Stop Your Love." Who helped you put that together and how does the video describe the track?
Sophia Shy: Im real happy with the video! Lazy Mills was the animator along with the story co-coordinator Yaz   from Olds Souls Entertaiment helped put this whole thing together. The video is an interpretation of Wont Stop Your Love. It goes both ways, the guy really wants me and I cant deny it and I really want him so I reciprocate towards him and its really a chase, as it happens in real life between two people. The Love game!   But definitely playing it out in anime character is super fun…
Stoli: You stay looking sexy and in great shape. Please explain your eating & excercise habits?
Sophia Shy: Alot of my fitness routines are in linked into my dance/stage training along with light weights and lots of stretch toning. With food, I eat a slightly higher in protein diet and very moderate in carbs. For the rest of the days like Halloween we give into sweets before I loose my mind eating too clean all the time.
Stoli: How did you hook up with 700HITSEASON / 7AURELIUS and how do they help enhance your career?
Sophia Shy: I hooked up with my producer on all my music from an agent out here. At the time I had no clue who he was. So I was astonished to find out who i was really working with. He's an incredible innovator for music, real priviledge to have him with me and be with his label at this time. Having surpassed the whole demo stage and jumping to a final product stage is a huge accomplishment… Its not just leveraging off his name its the fact he see's me as a huge potential and   having the credibility there to back it up means alot.
Stoli: What is 1 women's issue that is very important to you this election season & why?
Sophia Shy: Freedom with their bodies. We as young women looking to aspire are coming out of the previous decisions made from 1050's to the 70's that if we end up going backwards than forward with either sustaining the rights or improving them, it means for every new or existing young female entering into a crisis, a mistake or even looking to be a mother there's new opposing issues with new costs and the hit with social pressure and no freedom in decisions or the right to choose. Narrowing and closing down the system is a mistake for women, everybody has to elect and speak up and make sure we maintain the equal rights so we are not prisoners of the past but role models and leaders for future generation of women..
Stoli: Being from NYC, where would you take me if we were to go out for some music, dancing, & fun?
Sophia Shy: I would actually take you to a Broadway show because theres so many shows that have historic meaning to them. They are legendary story lines. Apparently most dudes would like to see SuperMan… If you like we can even see Phantom of the Opera just so you can wear the mask. lol
Stoli: What's coming up for Sophia Shy and where should we follow you?
Sophia Shy: whats coming up? Well right now theres a series of campaigns being ran for WONT STOP YOUR LOVE, hitting across the states over 4000 radio stations. I gotta another Campaign with AM Entertaiment and shows for the upcoming year and finally my website squeezed right in between there… A good mix and match right now. (:
http://www.reverbnation.com/sophiashy – http://www.facebook.com/SOPHIASHYMUSIC