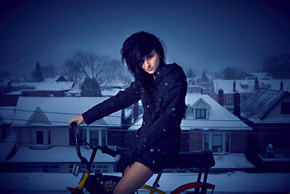 At the top of her latest U.S. tour, Lights debuts her new video for the song "Timing Is Everything" off her acclaimed album Siberia.
[youtube Hi7pAjjkhv8]
Directed by Ken Galloway, the offbeat video takes place in a 24-hour gym as random people work out in the middle of the night. Turns out they're all in the right place at the right time after each finds mutual attraction to another as they work out side-by-side on treadmills and exercise bikes. Pairing off into couples as the chorus booms, the would-be lovers jolt forward on their machines, crash through the gym walls and cruise together through the city.