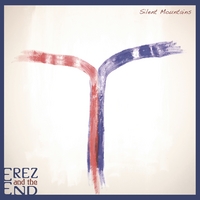 The raw, organic effort shines on Silent Mountains, the new five-track EP from Erez and the End. Hallmarked by honest, melodic Rock stripped of post-production effects lends a gritty purity to the tracks. Meld that with the raspy vocal delivery of lead man Erez Eiserman and the all-analog approach to the album and the final product boasts a through-and-through Rock album of anthemic proportions.
[youtube I1pyjXxzpfA]
Eiserman channels Mark Knopfler on opening track "Better Days." His gruff, rasp sounds very reminiscent of the Dire Straits singer, over a heavy guitar-driven melody. Backbone organ hums just behind the melody and the purity of the analog recording brings this one together. The tempo slows to med-tempo ballad on "Here In The Dark" opening with demure single guitar strums before the track surrenders to bent-note Blues fills and accompanying backing percussion. The lyrical matter borders on poetic in this anecdotal track showcasing a strong songwriter's ability. Acoustic strums open title track "Silent Mountains" with slight brush snare keeping time and harmonica sitting in place of guitar fills to tie the verses together. Again, the lyrical matter paints a "picture" as the track plays out. "For A Little While" returns to the opening track tempo as the electric and acoustic play tandem melody and fill. Slightly darker in its delivery, the eeriness of Eiserman's vocal delivery stands at the foreground of what wraps the album with another mid-tempo balladesque rocker.
http://www.cdbaby.com/cd/erezandtheend1
Eiserman's similarity in sound to Knopfler is uncanny to the point you almost forget that it ISN'T in fact the Dire Straits singer. My admiration for him may be clouding me a bit but I also really like the approach taken by the group in making an honest Rock album that hasn't been piped through computer software or cooked to death with post-production hocus pocus. What you have are five strong tracks of good songwriting meets good musicality.
By Chris West – cwestlaz@gmail.com