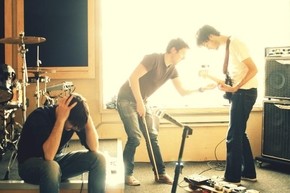 Dublin, Ireland trio Autumn Owls have premiered a new video for the song "Byways Of The Lifeless" via Impose Magazine – repost via YouTube here. The video coincides with the band's return to New York for the CMJ Music Marathon on Thursday, October 18, and leads them in to the North American release of their debut full-length album, Between Buildings, Toward The Sea next Tuesday, October 23 on Epitonic.
[youtube I7o4_cF6Sm0]
"Byways" was directed by Jay Miles who recently received the award for "Outstanding Music Video" at the Connecticut Film Festival and features actress Jordyn DiNatalie.