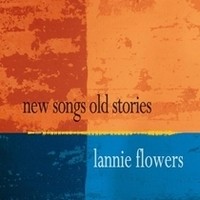 From Texas comes an amazing male artist known as Lannie Flowers who just released his latest effort "New Songs, Old Stories" (2012). Flowers is strongly established in that region and this latest released is a collection of his best material. I always listen to the opening track extremely carefully. It's the opening track the artist has selected to hit your ears first and foremost. The opening track "Another Weekend" sets the stage perfectly for a CD like this. It was a great intro piece that stuck in my head and had me eager for what lied ahead. All in all the whole CD is brilliantly delivered with a richly woven Alternative Rock Americana-ish textures yet with songs that have a serious popish staying power. Music will remind you of Fleet Foxes, Robin Pecknold, Bob Iver, and Local Natives. The Tallest Man on Earth and Iron & Wine. To be honest I can't say enough about Flowers overall appeal. His write up that describes it best: Same Old Story, though it may be your typical boy meets girl tale, it is not typical in delivery. 36 individual melodies or one all inclusive melody, it's in your interpretation. "It's the same old story, except this time the stories mine". "New Songs, Old Stories" captures a pretty straight forward sound but it really grabs the listener right from the get go and doesn't let go. Flowers has a sound that favors many ale pop artists in the late 70's like Eddie Money but with a modern-day feel. I've never heard an artist so skillfully combine so many consistent songs into one unique sound. Weather this is by design or simply by accident it's amazing. The songs that stuck with me the most was "I didn't Know", Another Weekend, and Another Boy Like Me."  
[youtube Vy9diOgAG1c]
My only negative comment — I felt the CD was a little repetitive.
Official Lannie Flowers URL – http://www.lannieflowers.com
If there was one word I would use to describe Flowers it would be consistent. This CD will simply make your day more entertaining, but there is an undeniable passion beneath all this. Flowers is   a very capable player as the proof is in the picking, but it's obvious to me his primary goal as an artist is to make this world a better place one song at a time. If that's sounds corny so be it.  
Buy the CD – http://www.cdbaby.com/cd/lannieflowers4
http://damnuglyphotography.wordpress.com/tag/www-nadiaackerman-com
Send review comments to indiemindymccall@gmail.com
By Mindy McCall edited by Michael Rand