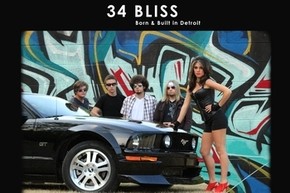 34Bliss is a Rock-n-Roll band out of Motor City. They have their engines revved and are hitting the scene with positive energy soaring them to new heights. This 5 piece band consists of Rocquel singing leads, Palmer on drums, Patrick on bass, Phil on guitar and Jonny Guitar on leads. All 5 of them have very unique talents that join forces to create 34Bliss.
I had the distinct pleasure to talk with Rocquel about her band. She brings an energy to the table that is unsurpassed by most. She's got a cool sexy vibe and she speaks with eloquence and strength. Born and raised in Detroit she knows what it takes to survive and overcome.
[youtube FQnqg8NTEf0]
I asked her what was the driving force that keeps her and the band moving forward and she said, "It helps that we've grown up in Motor City where the environment & culture of survival and hard work are one. We thrive on fan feedback and the momentum that we continue gaining as we build on our second CD release. We also have a clear focus on what we have yet to conquer."
Right away she puts out into the air an energy of confidence. She is proud of her band and knows that each individual brings something different to the table that as a whole creates one solid force.
She explained, "As the lead singer, I knew I did not want to go solo. I began networking through different connections and picked up these guys (I call them my boys) to form the band."
They have been rocking ever since building a following and making waves. Rocquel has some pipes that reach the heavens and "her boys" are there to keep her grounded.
She said, "We recognize that each of us has an important role to play in the band.   We have a lot of similarities which makes it easier to get things done. However, we also respect each other's differences, realizing those differences contribute to new sounds and new experiences."
The experiences keep on coming and they roll with the punches. Everyone has a say and they all work together. Listening to Rocquel speak is as entertaining as listening to her sing. She uses succinct humor as she described what being in 34Bliss is like and how things work.
She explained, "We collaborate on everything. Whether we're writing a song or making a decision that effects the band. Everyone has a say. Now, if someone falls asleep, they lose their vote… lol! But seriously, we really do have a very close and respectful team approach. When we finish a song, it is always a collection of each musicians' input, so everyone is attached."
Each personality can distinctively be heard in every song. They have a sound like no other and Rocquel feels their successes thus far are due to the fact they are in this together. They rock the stage as vibrantly as they live and connect with their fans the same way they are connected with each other, through camaraderie.
I asked Rocquel what is her secret, share with Skope a few tricks the band uses to keep their audience engaged and she said jokingly, "We can't share our tricks or we would have to kill you. But I think it has something to do with the 7 senses."
These guys are here to play, they take their music very seriously even though she speaks with entertaining comedy. They believe hard work and perseverance is what makes a band successful and there is no shortage of either when it comes to 34Bliss. They work around the clock and look at it as a labor of love.  
I asked her what the future held for them and she said, " Our hope is to emotionally connect with 8 billion people, give or take. 34 BLISS ~ Born & Built in Detroit! Give us a listen and share our music with the world.   Let us know what part of 34 BLISS touches your emotions." www.reverbnation.com/34blissofficial
Their city has certainly seen some hard times in recent years and they believe that environment has only made them stronger. They are unrelenting and stead fast you can't break them and they have built a solid foundation with positivity and power in numbers. She is going to use those numbers to build their fan base one person at a time.
Their music is energized, straight up unapologetic Rock-n-Roll. The music speaks for itself, your only job as a fan is to listen.
http://www.34bliss.com/fr_welcome.cfm
http://www.facebook.com/thirtyfourbliss
Rebecca Hosking – hoskingrebecca@gmail.com