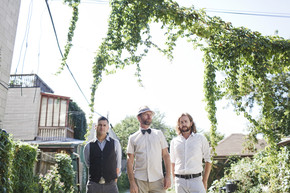 Early 2012 saw Canadian trio Elliott BROOD's widely successful release of "Days Into Years" through Paper Bag Records. Receiving accolades for the album's lush, energetic instrumentation and the raspy croon of front man Mark Sasso's vocals, the band sold out shows and gained multitudes of new fans across the nation.
[youtube xqmYwvUdwCY]
Elliott BROOD have been carving a serious name for themselves, emerging out of the new generation of roots revival music, characterized by their rustic style and candidly honest songwriting. Their music tells "a macabre story" (NPR) and "and sounds at home just about anywhere" (KEXP).
Cover of "Ziggy Stardust" (David Bowie) by Elliott BROOD:
Photo Credit: Vanessa Heins