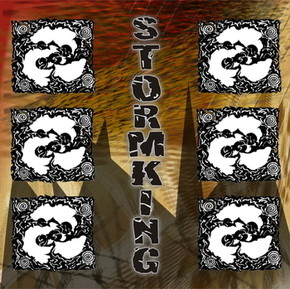 StormKing is a whirlwind of sound, the name fittingly descriptive as the songs fluctuate between calm and chaos, capturing the spirit of Hendrix and more modern artists like Monster Magnet. Skope had the opportunity to discuss the band with leader and chief songwriter Duke Adkisson.
DiGDuGDisaster. How does living in Olympia, WA affect your songwriting being so near Seattle?
DUKE: Seattle is my hometown—I feel the hard-rock/metal grooves of MotherLoveBone, Soundgarden, Alice in Chains, and Hendrix much more deeply than the "punkier" side of the "Seattle Sound".
DiGDuGDisaster. Your ReverbNation profile classifies your band as acidrock, can you help define that for us?
DUKE: "ACID-ROCK" excites the synaptic receptors to "guzzle " rather than "sip" neurotransmitters—UHH—puts the"spacey-groove" inside overdriven sound like HENDRIX, CREAM, TRAFFIC, and the bands that exploded out of that scene in both the USA and Europe.
http://www.cdbaby.com/cd/DukeAdkisson
DiGDuGDisaster. Your song "Turn To Life" has a surprising jazz vibe to it, do you have any interesting musical backgrounds?
DUKE: I have studied/toured with jazz and classical ensembles—my jazz influences tend more toward keyboardists and horn players like Herbie Hancock, Taylor Eigste, Miles Davis, and Chris Botte to name a few—some jazz/funk guitar is cool, but guitar is seminal to ROCK/METAL.
DiGDuGDisaster. How long have you been performing?
DUKE: Over twenty years.
DiGDuGDisaster. Do you have any travel/touring plans? Do you play outside of Olympia?
DUKE: I perform locally, and recently have had great response in the CHICAGO area—I am always experimenting to find the best way to showcase STORMKING.
DiGDuGDisaster. "Killing Post" sounds vaguely like something The Cult meets Monster Magnet, who are your major influences?
DUKE: Ian Astbury is in the elite of all rock vocalists—KILLING POST is hard-blues launched with rock/metal guitar to get that "acid-rock twist"—my major contemporary influnces allign with GODSMACK, ZOMBIE, and SLASH.
DiGDuGDisaster. Tell us about your release and how fans can get their hands on your songs?
DUKE: I am using the STORMKING Reverbnation page to screen songs for a 12/12 release—five new songs were posted in May and more will be posted in September—fans and interested listeners should hit that link and let me know what they want to see on the release!
DiGDuGDisaster. What's in store for StormKing down the road?
DUKE: New release in 12/12, a video/radio show in the style of the BBC Sessions, and live showcases are all on the schedule—I am playing the cards close to my chest as we get closer to "bigger" things.
DiGDuGDisaster. What is Tortion Dyxplasia?
DUKE: …riffing on the WRACK—so—malicious dislocation of joints, tendons, and muscles via external instruments—still looking for an awesome phrase for the disruption of internal organs/processes caused by super loud bass frequencies.
DiGDuGDisaster. Do you guys have a philosophy that you adhere to?
DUKE: keepin' it WEIRD—if the sound does not make us freak then we try harder…
DiGDuGDisaster. what advice would you give a kid that was interested in becoming a professional musician?
DUKE: Don't buy into the "easy way"—ain't no such thing—learn your craft and then find your own personal way of warping reality into what you need!
Make sure you get a healthy dose of StormKing's soulful scorchburners, you'll be glad you did. http://www.reverbnation.com/dukeadkisson
Douglas Garnett – douglas.garnett@gmail.com – http://digdugdisaster.com