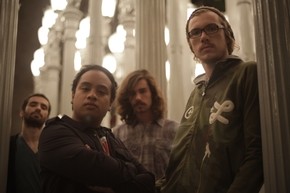 It feels so good to sit down and write this new column. As many of you noticed over the past week, Skopemag.com went through a major theme redesign and server upgrade. After a few days of high anxiety we are back and I think better than before. Skope truly has an amazing & loyal global audience. To return the favor I am going to present a band from the west coast called Bristol To Memory. Many of you have already heard these guys as their work ethic is as strong as the music they make. The guys have an album out now, 'Don't Hold Your Breath' and it's already in my car. Join us today as we talk with Bristol TO Memory about getting the band started, their key to longevity, comparing marriage to being in a band, and much more!
Stoli: Where are we talking from today and are you gearing up for fall?
BTM: We are currently at our home studio in Santa Ana, CA. working on a new record. We've been recording for a few weeks now and will continuing throughout the fall. Along with recording we'll be playing some shows in the up and coming months at local colleges and venues.
Stoli: You guys have been around since 2005. How has your longevity helped you go from obscure to an established band?
BTM: Well from our standpoint we're still pretty obscure. At least in the sense that we're still far from where we want to be. Our longevity is due to the unbelievable support from family, friends, and fans that inspire us to pursue what we love doing. Also the fact that we have been lifelong friends, gives us a solid base to build off of.
Stoli: Where would you like to see the band in 5 years from now and how do you plan to do that?
BTM: Hopefully we'll be fortunate enough to still be doing this five years down the line. If we are we'd like to up the ante a bit: bigger shows, bigger tours and a larger forum. We'll make this happen is by doing we've what we've always done. Play shows, write relative music and continually sharpen our craft.
Being on the cover of the Rolling Stone would be nice too.
Stoli: How did you guys get the band going in the early days and what does Bristol To Memory mean?
BTM: In the early days we were split into two different bands. We played shows together, hung out and built separate followings. It just so happened that Ken and Alex's band broke up at the same time two members left Bristol To Memory. So we figured we'd join forces so to speak and from that we have the Bristol To Memory that you know today. We got our name from the cross streets of Bristol and Memory Ln. in Santa Ana. Its where we grew up and is still the location of our home studio and residence.
Stoli: 'Don't Hold Your Breath' will be your fourth release. How would  you say that your lyrical content has grown over the years?
BTM: Through the years our lyrical content has constantly changed and swayed into new directions. I would say the biggest difference is just gaining a new perspectives and a better understanding of life and reality through experience.
We have to constantly pushing ourselves out of our comfort zones to create meaningful and soulful lyrics.
Stoli: Rory has a kick ass voice, does he do most of the songwriting and if not who does?
BTM: Yes he does most of the writing but the songs Bristol To Memory creates are a collaborative effort. Rory usually writes the songs on an acoustic guitar and brings them to the band to expand upon and bring to life.
[youtube v9edsX69BuM]
Stoli: I really love the song "I Bet On You." Who wrote that song and what does it mean?
BTM: Rory wrote that song about a failing relationship and false hopes of anything more. Most of the songs are pretty much open for interpretation but generally speak of situations that we all find ourselves in at times.
Stoli: How do you guys balance school/work & music and do you have to make sacrifices?
BTM: Fortunately we're all finished with school. But we do have to balance a tough schedule of work, women and music. But when it comes down to it, we'd give it all up for music. Anyone that does this for a living knows sacrifices come with the territory. It becomes a balancing act with friends outside of the band, family, relationships, even sleep. Just this past week we would start our day around 10am and before we knew it, it was 3am and we're still working.
Stoli: If I was to come to the LA/OC music scene where would we go to see you guys play live & drink beer?
BTM: We've played almost everywhere around here. Chain Reaction is where we all started, but we've played Slide Bar, Copper Door, Detroit Bar, House of Blues in Anaheim and Hollywood, Key Club, The Roxy, Viper Room, The Whiskey and numerous back yards. As far as beer goes, if you hang out with us anywhere beer will not be far away to say the least. If you're ever in Orange and you want to drink with us, just go to Paul's Coctails in the circle and you will probably run into at least one of us.
Stoli: Were you offended by the film 'Innocence of Muslims' or did you not see it?
BTM: None of us have actually seen the film but the events that followed are very unfortunate. We do not condone the film nor the reaction of the individuals involved in the killing of the innocent.
Stoli: What is harder to do, keep a band together or a marriage?
BTM: None of us have been married so we can't fully answer the question. But being in a band is similar to a marriage to where it takes communication, sacrifice, and being a team to make it work. Both are relationships where you depend on each other, everyone has to pull their own weight, and even live/sleep with each other on tour. Main difference is we don't have sex…. With each other that is.
Stoli: Whats coming up for Bristol To Memory and where you @ online?
BTM: We're on all the major social media sites.
http://Bristoltomemory.com
http://Itunes.com/bristoltomemory
http://Twitter.com/bristoltomemory
http://Facebook.com/bristoltomemorymusic
http://youtube.com/bristoltomemory
http://reverbnation.com/bristoltomemory
Coming up for us in the short term are a few shows. We have Goldenwest College on September 25th, Chapman College on October 3rd,Brick By Brick in San Diego on October 19th, and The Roxy in Hollywood October 28th. Also the new record will be out in Spring 2013.