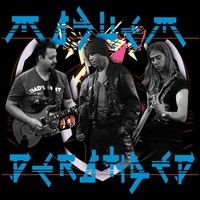 This time "Here I Go Again" is not the Whitesnake monster ballad but the single from Mayhem Deranged, a band that is sure capable of evoking the sleaze and splendor of 80s metal.
"Here I Go Again" is good ol' dirty, guitar-driven rock with crunchy riffs that make one think of Slash circa 1987. About 1:30 in, the distorted guitar crunch accelerates into a rather quick but blistering solo. Then it's back to violent chord progressions, over which the vocals hover – almost ghostlike.
Aside from singing about drunken revelry, the song makes explicit mentions of "hash" and "coke." Do these substances fuel the music? Either way, Tipper Gore and the Parents Music Resource Center (are they still around?) would not be delighted.
"Here I go again…Same old show again," suggests a certain rock n' roll jadedness. The man singing these lyrics is grizzled (hopefully not jaded) veteran Ray Mayhew, who saw UK Top 40 success way back in the 80s with the British New Wave band Sigue Sigue Sputnik.
As American as the guitar sounds, there is something quite punk rock and British about Mayhew's voice, which might make a listener think of Billy Idol.
Mayhem Deranged is the creation of Mayhew, whose name is eerily similar to "mayhem." Formed back in 1990, the band was nixed in '93, only to reappear in 2007.
"Here I Go Again" is available for your listening enjoyment at: www.MayhemDeranged.com/listen.html, which also provides a surprising dance remix of the song, along with an earlier recorded version.
At the present time, six tracks are offered. "Some Things Better Change" features ominous guitar chops, and the strings are dropped something silly on "Alright Now," which might be ironically titled; there seemed to be quite a bit of angst here.
Speaking of angst, when the ill feelings pour out from Mayhew, he goes from sounding like Billy Idol to sounding almost like Motorhead's Lemmy. Come visit and hear for yourself.
By: Ray Cavanaugh – owleyesgatsby@yahoo.com