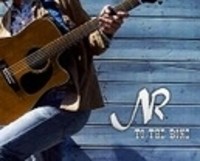 Deconstruction has seen its place in music since, well… forever. It makes sense that as soon as an artist lays down a "final" track he or she could very easily return to the same track and strip it down to its base. Such was the case when singer/songwriter took an inventory of some of the tracks on his debut EP, Thicker Than Water. Rivers revisited two tracks from the EP, waded through the "bells and whistles" and brought them down to their bare essence. Throw in three new songs and two bonus tracks and you have To The Bone; Rivers' seven-track EP due out early next year.
[youtube 0BYc6b_9cp8]
Acoustic strums lead the way on "Birds in Trees" which is all melody, lyrics and slight percussion. The track toes the line of Alt/Indie and folk leanings with a slight urgent strain in Rivers' vocal delivery. The anecdotal lyrical matter highlights his prowess as a songwriter. This vein of tracks also allows the songs to shine for what they are without any "studio magic" post-production obfuscation. "Molotovs and Medicine" is the first of the stripped down tracks from the prior EP. Again, acoustic and harmonica share the spotlight with Rivers' vocal delivery, which tells a story of his mischievous childhood. The melody features staccato breaks within the melody between the strums and horn honks, which sound reminiscent of the harp line from "Use Me Up." Again, it's the lyrics that shine with their "storyteller" ethos. The demure "You Heart Was Just The Start" features solo acoustic picking at the melody with the track playing out in much the same vein as Plain White T's "Hey There Delilah." The frantic "Oildrips" commands urgency in its listen, with string-busting strums and socially charged message as Rivers' channels the stories of friends and family that served in the Iraq War. Poignant and colorful, this perhaps illustrates Rivers' songwriter ability best.
Simply, this is a collection of seven, strong songs that speak to the listener even in their simplistic, stripped down form. The arrangement of the album is also to be commended with three new offerings and the addition of bonus tracks makes this one a veritable gift for fans. The album is set for release in March of next year, just in time for SXSW. Expect a strong showing from Rivers riding the release.