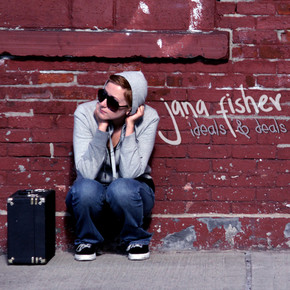 "Spunky lyrical folky piano pop" artist Jana Fisher is set to release a new 3-song EP Ideals & Deals on October 2. The EP will be available on major digital outlets and will also be given away on Fisher's website. "Building relationships with fans is much more important to me than earning a profit," she says.   Fans can also purchase CDs in handmade packaging and other related merch directly from the artist's site.
[youtube ad-buYkFQiU]
Ideals & Deals is an intimate yet lively release constructed around piano, guitar, and light percussion, recorded over three hot summer days at Brooklyn's Gallery Recording Studio. From obsessing over the "30k" that makes or breaks a big city transplant, to purposely undermining a relationship in "You Deserve Better," to declaring her love for another woman in the touching "If I Ever Break Your Heart"– all three spin tales of what we'll do for our ideals, the shocking compromises of survival, and the rewards reaped from a life richly lived.