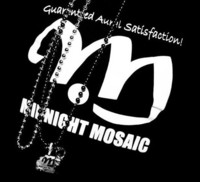 Matching the look of each member to the next of this 5 piece band from New Brunswick, New Jersey, the music of Midnight Mosaic is very diverse indeed in sound from track to track. Listed as Indie/Rock leaves much open for interpretation, and Midnight Mosaic does not simplify it at all with the varies in styles of music. With some tracks sounding like a high tempo ska/rock mixture, while others deliver a heavier guitar based rock sound. Then adding in some pop rock and soft rock led by the keys of a delightful piano. Midnight Mosaic is yet another of the growing list of bands that one cannot pin down to one, two or even three genres.
On the track "My Fair Lady" they begin the song with the synthesized keyboard of Harrisyn Hartt that fades into a nice riff from Trent Carters axe. Adding a nice bass-line from Gil T. Brown and all tied together with the skins of Animal "AJ" Jones. The vocals of A.T. Hunte come in and swirl all around the music perfectly with just the right pitch and vocal range. A track the band just released in time for the 2012 Olympic Games in London.
On the track "11th Hour" MidMo starts off with a hard edged riff from Carter that has the song feeling more from the 90's alternative realm. A nice touch, considering the remainder of the song then sounds more like a ska track without the horns. Hunte shows a wider range in his vocals on this track as he belts many of the lyrics for emphasis. With maybe slight pitch issues at a couple of different parts. But overall sounding real good and not really noticeable to the average music fan. In mid song, you can hear the slight synthesized rhythm from Hartts keyboard that adds in a great touch. Not too much, but just enough to add a bit of texture to the track.
On "Masochist Me (Heartbreak mix)" the track starts off with a sweet sounding piano by Hartt, that remains through the whole track. Dubbed as the bands ballad song, the vocal range of Hunte is very wide on this track. Soft at the right times, with great pitch at the belted parts and even some growled words for emphasis. This track even adds some rhythm and blues feel to it, with soul and feeling. Quite fitting for a ballad in every way.
On the track "Victorious" the band surprises yet again adding in some jazz and folk rock sound to their ever growing list of genres touched upon. With a soft drum line in the beginning and increasing over the course of the song. AJ shows off his own diversity not really sticking to the traditional drums line of average rock bands. By the end of the track is where the higher tempo of a ska band comes into play. With the lyrics sounding almost Caribbean at times, it makes you wonder just how many different styles of music are represented by Midnight Mosaic.
Overall, MidMo is a highly enjoyable band. Their diverse sounds, just like their diverse styles and looks, add a new dimension to music today. As they touch upon so many different sounds and genres, one could only imagine the diverse look of the audiences at their live shows. Giving a taste to each different type of music lover out there, they transcend the name that genre feel to all new levels. The band plays well off of one another and feed off of each others energy. Not really having one aspect of their sound shine through like many other multi-genre bands, they will surely bring a new element to reach for in todays music. With a little something for everybody, Midnight Mosaic are sure to be around for a while and is surely a band to be watched, and heard, over the next few years.
By L. White
Midnight Mosaic Links:
Website: http://www.midnightmosaicmusic.com/
Facebook: https://www.facebook.com/MidnightMosaic
ReverbNation: http://www.reverbnation.com/midnightmosaic
[Rating: 3/5]