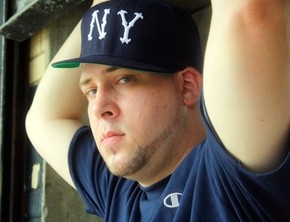 It's always a great thing when a new kid on the block makes enough noise to make the world sit up and listen. Although AWAR might not necessarily be a 'new kid on the block' per say having already put out a couple of freebies, he would definitely be one to take note of when considering the next generation of MCs.
Actively promoting his release, The Laws of Nature which is available now both digitally and the old school way, this upstate NY rapper is keen to tell his story, not just through his rhymes but also in this exclusive interview with Skope.
You have selected quite a few big name producers to work with on this album, what made you work with these guys?
Everything moves at light speed in the digital age and I feel like most artists don't take time to seek the best production they can get. For me, this album was a process, but I have to give my producer Vanderslice credit for linking me with some of these guys initially. I reached out to some of the artists myself, and my people over at Raw Koncept helped me in that department as well. I have some good ears in my circle and I chose production that I knew would inspire me to write. I definitely got some great looks on the production tip.
[youtube LFUqMghR9M0]
Does using so many different producers give an album a new dimension in your estimation, as some folks would rather use just one producer to add to the cohesiveness per say?
The thing with that is, I already have incredible chemistry with my co-executive producer for the record, Vanderslice. I have great creative energy in my circle and my team lets me do me. Sometimes too many ingredients in the pot can spoil the sauce, but I think we found a nice balance of sound for this record. All the producers I worked with have their own signature, and I think that working with seven different producers did add a new dimension to my sound. The record came together very organically, which is when I'm most comfortable, when everything just flows naturally. This album represents many emotions with sound from that raw street sound to the most soulful records I have ever done. I felt like I needed to make an album that would raise the bar for myself and ultimately make the AWAR brand a household name. That will only help my team in the long run. I wanted to give my audience something to anticipate with the calibre of producers on it, and I think the music completely lives up to expectations when you read a line-up like that….everyone gave me fire.
Being that this is your first official 'for sale' album, how confident are you that people will want to spend money on your album?
 
I've been putting out music and visuals for a while now to get people familiar with me. This project, "The Laws Of Nature" is my most complete work, and I think that people who love dope lyrics, crazy production and real hip-hop will support me by purchasing it. I think that this is the kind of album that you should be able to go back and listen to ten years from now and that it will still have relevance and will age well. That's what most of my favorite albums have done for me. I can still go back to a Reasonable Doubt, Only Built For Cuban Linx, 36 Chambers, The Infamous, Illmatic, Ready to Die and remember why they were special albums even though the artists went on to achieve more commercial success after those benchmarks. I believe in my music and invest into my projects because I think they have value. I believe you get back what you put into it, and I'm not talking paper here. It goes beyond record sales. This is truly a grass roots movement and I think this album will be the one that solidifies my growing fan base.
Does giving away music like you have with your prior two projects enhance a performers position with their fans?
I think that it depends on the approach of the performer. I treat every project like I would an official album. I use original production, high calibre mixing and mastering engineers and have set a standard for quality visuals even for my free projects. I think the platform gives people a chance to witness your growth.   I feel like if I give you my best pro bono, then supporting me when I have an album in stores should be a no-brainer. I need the people behind me as an artist and my way of showing you I was worthy of that support was giving you some great music using the "mixtape" or "street album" format. Now I'm on that "official album" shit. I'll be giving you some singles and visuals, but I really want to give you that feeling I used to get when I went out to the stores and copped my favorite artists latest project. ITunes is great too, but I really want you to experience the music. I want you to put it in your whip or stereo or go home and twist something up, get right and just let that shit knock, because I made it with that intention.
AWAR – Never Break Me feat. Evidence (Produced by Vanderslice) by AWAR
What do you think fans of Hip-Hop are looking for these days when it comes to supporting an artist?
I think that everyone has his or her own taste. We have seen an emergence of rappers who have developed huge followings by appeasing the current trends in the mainstream. Although style over substance seems to work for some, I don't think it's sustainable. I enjoy having my own lane. I think that people are looking for artists who can be themselves, which they can relate to. I represent the underdog in this music industry. If I reach new heights in my career it will be because people support and appreciate someone who puts heart into their music and takes this craft as an art form, not a sales competition.
It would appear that you have to be more than just an artist today, handling a lot more of the other areas of the business if you are looking to catch the eyes and ears of labels/distributors etc. What has been the hardest thing for you to balance?
Turning my passion into a long-term career is a challenge, but I enjoy a challenge. I don't believe you need a deal with a major to do that. If you stay sharp, hungry and determined – and you consistently grow with your music, you will eventually catch the ears and eyes of labels and distributors. The question then is what can they then offer you that you can't do for yourself. I have both an artistic and business background, so I know how to handle the majority of the tasks a record label does by myself, but I firmly believe you need to have an experienced and skilful team of people that believe in you to give that extra push.
Taking it to the album, how long has it been in the making?
My whole life….this album is the culmination. I had the title for it about 5 years ago, but to really put it together and build enough momentum where I felt like it would get the attention it deserves took a minute. Most of the material is still pretty fresh to me, a few of those joints I been holding on to for a little while though. Patience is key though; it's the downfall of way too many artists.
What do you hope people get from the album when it is finally released?
I wanted to give you something with crazy replay value. The fact it's coming out in August is very fitting for the feel of the music to me, it feels like a summer album, but you can definitely rock out with it through all seasons. It's motivational, aggressive, conceptual, powerful, lyrical, soulful, spiritual- all wrapped and packaged up into one heat rock that you can play front to back without hitting that skip button. "The Laws Of Nature" is a milestone.  
If you were to pick just one track from The Laws of Nature, which you believe sums up everything you are trying to relay, what single would it be?
I think "Never Break Me" would be a good choice. There's so many records on this album that I feel convey what I've been trying to accomplish, its really tough to pick just one. I chose "Never Break Me" because as an artist there's always trials and tribulations, and only the strong survive. Survival and turning dreams into reality is the best way to describe the theme of the album.
How are you putting this project out?
I'm putting it out via my own label imprint Lions Pride, in conjunction with Raw Koncept. It will be available in stores on CD, the artwork is gold foil stamped, and it will be available digitally on iTunes and Amazon on August 7th. I would love to do some vinyl for it- but I'm going to wait and see what the demand is like.
How important is the visual aspect to you when it comes to promoting your work?
I said in the first single, "It's so cinematic when you livin' in the moment" – Tunnel Vision. I think visuals are very important- both artwork and videos. The music is really personal to me, but when I'm shooting a video I get to collaborate with other artists in the directors and we come up with a vision together. My lyrics are very visual and I love the challenge of basically trying to create a movie out of a 3-5 minute song. In terms of promotion, the fans of my music seem to really enjoy them and I strive to give them something memorable. You have to think outside the box and be more creative when you have fewer resources. I think the directors I worked with – Puma, Todd Angkasuwan, Dan Meyers, and Illusive Media all have their own styles and it's been fun for me.
When it comes to videos, what sort of feel do you like to depict in yours?
I really want the feel of visual to match the feel of the song. The video we did for "Orange Boxcutter" is so grimey- and we shoot guerrilla with all these- so people were looking at me like I was insane shooting that one in public. We did the "My Story" video by Three Mile Island and that was a crazy surreal ordeal too. I'm planning on letting people in on some of the back-stories of the videos on my website www.awarstories.com We have a good range of types of videos with this new album, I'll let the people decide.
Going back to when you first started rapping, who have your biggest inspirations when it comes to lyrics?
Growing up on the East Coast in the 90's- I was mostly influenced by NY emcees – Nas, Biggie, and Jay. Big L was one of the best to me. Pharaohe Monch is incredible. Wu-Tang – specifically Rae and Ghost. Ras Kass was one of my favorites from the West. Eminem of course. From the South- Scarface and Outkast. Midwest- man Common was so ill with it early in his career. That's my era. Then there was a bunch of more underground dudes who I thought were nasty too.
With so many ways to make an artist successful beyond just selling records, tours, merch, endorsements etc., where do you see your strengths in establishing your success?
I want to make an impact both creatively and on a business level. I'm tightening up my live set- testing certain records on audiences and seeing which get the best response live. I really want to tour and see different parts of the world, and gain inspiration from that. I respect relentless guys like Jay and 50 for what they have done by stepping their business game up to heights previously never seen before from hip-hop artists. I think I have the same potential, I'm just fighting for my spot.
Buy @ http://itunes.apple.com/us/album/the-laws-of-nature/id542521212
Lara Croft Crate Raider