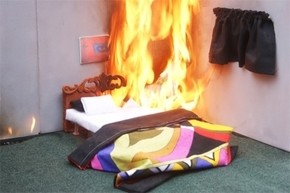 Denver band, 28-200, has released a video for the title track of their latest EP "Gunfire of Angels." "Gunfire of Angels" combines video and animation to weave an eerie tale of things that go bump in the night. The band commented that "These days, animation is predominately computer-generated.
[youtube 07gOecYLcFQ]
We wanted to pay homage to one of the earliest forms of animation by telling the story via stop motion photography. The result is sort of Davey and Goliath meets Twilight Zone."     More than 500 individual photographs were required to complete the scenes. The video and hilarious outtakes are available for viewing on YouTube.
Skope Review: http://skopemag.com/2012/05/11/28-200-gunfire-of-angels
You can download a free MP3 of "Gunfire of Angels" by liking 28-200's Facebook page.