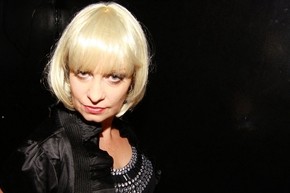 eM is the word for sure but I'm not talkin' about that Slim Shady Em but just plain old eM!   eM is givin' it to you deep, hard & fast on her album fittingly titled 'DHF' with club-friendly, dance music.   This talented vocalist/songwriter/producer originally from New Zealand currently resides in Melbourne, Australia and she is coming with a style that is simply contagious!   Learn more about this multi-dimensional artist from the land down under as she discovers the three keys toward a better world: love, respect and help.  
J Rae: Just coming off a recent 'New & Improved Jimmy Rae Review + Promotion' on Skope (http://skopemag.com/2012/05/11/em-dhf-heath-karau-mix) and now an interview!   I'm so glad I get another chance to work with you as it definitely seems like things are on the up and up for eM!   Just in that short time since the Review + was posted I know that BIG things have been happening and that your music has been blowin' up!   Would you mind telling the Skope fans about all of the crazy, exciting stuff that has been going on lately?
eM: Just after the release of my DHF album I was approached by a contact in France to organize remixes from European producers. This release 'DHF Dirty Mixed' should be happening in the next few weeks, releasing through French Elettrika Records.   I love hearing what other producers do with my songs so I am looking forward to hearing what comes out of this.
I also started collaborating with two new producers over a month ago and we already have half a dozen new tracks and remixes happening. Very refreshing to work with these two as they work quickly and they are also remixing my track "Magic". Both have very different production styles so again, I am looking forward to showing this music off very soon. Won't tell you WHO just yet but one of them had a recent no.1 track on Trackitdown ;)
I do have a follow-up EP to my latest album in the pipeline 'Encore' with three tracks. It's been many years since I spun some vinyl so I am learning a program to DJ mix and hopefully end up doing small room gigs with my Mac book and microphone.   I am hoping to finish my EP some time in August with another video.
J Rae: Speaking of the Review + on your album 'DHF, Heath Karau Mix', what inspired you to make fresh, new remixes and how did you initially meet Chicago DJ Heath Karau?
eM: I met Heath through Facebook via a USA DJ contact about two years ago. He ended up remixing a track off my 'Darker Harder' album "Waking up Inside".   Heath's been DJ'ing for many years and he is an incredible mixer. I often listen to his DJ mixes for inspiration and we have become very good friends via the Net. Next time I'm in the States we are definitely meeting up as we are like kindred spirits.
What inspired me to do this DJ mix of the album was initially I wanted to DJ mix it but I just didn't get the time so Heath offered to do this. We spent many weeks toing and froing over the Net as we are both perfectionists and the mix had to be spot on. Wasn't easy for Heath because all of my tracks are different but I am very pleased with the result.   It is a true journey from start to finish.
At the moment you can download this DJ mix for free here: www.soundcloud.com/em_melbourne
J Rae: Just so all of the Skope readers know 'DHF' stands for deep, hard & fast and actually your first full-length album was titled 'Darker Harder'.   So my question is why go 'Darker Harder' first and then later on decide to go Deep, Hard & Fast ('DHF')?     Also, what do these terms mean to you personally and why name a record after them?
eM: lol I get asked that a lot.   My debut EP 'eM. Experience' was quite ambient and chilled. It was my first attempt at producing.   My next step in learning to produce was to learn to create beats so that's how I named it 'Darker Harder'. It was slightly darker and harder in production and sound to my EP.   'DHF' came about coz the title track is quite sexual.   It's about not taking someone too seriously and just seeing the situation for what it is. lol So I thought 'what a cool name for an album' and the ambiguity of it is the whole album is Deep, Hard and Fast compared to previous releases.   This next EP is the follow-up so I've called it 'Encore'.   I believe in taking people on journeys in my tracks, videos and releases so my whole musical career is one big journey.    
J Rae: I know for a fact that you live by these three words: "Inspiration. Motivation. Dedication."   Where does all of your inspiration and motivation come from and what are you dedicated to the most in this life?  
eM: I'm inspired by life experience and other people's music.   I listen to DJ mixes all the time and love hearing different styles of production.   I also have a vast music collection and believe a good song can be in all music genres.
I have always been very motivated with music particularly in the last ten years. It's what makes me tick.   Until recent times, I had sacrificed my own health and social life at times, which isn't a good thing. It is about balance, which can be a tough lesson to learn.   I am very driven to succeed and that has kept me focused on my music.   Again it's a balance, I am dedicated to my music but also to my family and friends and working hard at whatever I do.
J Rae: I see that you're currently living in Melbourne, Australia but that you're originally from New Zealand.   First I'd love to know why the move and can you also tell me the major differences between the two locations.   Also, for someone that's never been out of this country would you mind telling all of our readers what it's like living in Australia and New Zealand?   Time to turn into eM the savvy travel agent just for a sec!   lol
eM: lol New Zealand is a beautiful country and most of my family lives there.   I moved to Australia when I was 18.   I had grown up in the country and had been living in the city of Auckland for a couple of years.   I was very young, fresh out of school and didn't quite gel to the Auckland city life.   I had some distant family in Australia and decided to make the move.  
The main difference is New Zealand is a small country with a population of around four million people. That's the population of Melbourne lol!   NZ is a beautiful country with the farming industry being the main pulse of it. I love my homeland and try to visit my family every year.   There are so many things to see and do in NZ and if you visit you need at least 2-3 weeks to cover both islands from the sulphuric mud pools to gorgeous native bush land to snowy mountains. The native Maori culture is fascinating too and quite unique.
The reality is Australia has more employment and career opportunities and a better standard of living i.e. our wages are higher.   Australia is a much larger country than NZ and has a vast area of desert.   The top end of the country is hot and tropical with the other side where I live, can be hot in summer and snowing in winter.   To travel around Australia you would need a good 6-8 weeks and even then that wouldn't be enough to see it all.   I have lived in two states here and I prefer the colder climate.   Melbourne is an amazing city with so many different cultures living here. I moved here in 2000 to pursue my music as this is the music 'capital' of Australia.   The native Aboriginal culture here is very different to the NZ Maori culture but again so unique and fascinating.
J Rae:   Just so everyone knows your music is definitely dance-friendly and what I'd like to know is have you always been interested in making dance-oriented songs?
eM: I discovered dance music when I left school. Until then I loved rock music.   I've been nightclubbing since I was 16 so have always been around the club/dance music.   I started writing songs/lyrics when I was 13 and it's only in the last 5 years, when I undertook audio engineering lessons, that I started producing club/EDM music.
J Rae: Your love for music started at the very young age of six where you went on to start singing in school choirs and later on joining rock bands, stage shows and DJ's.   As a child, what was it about singing that drew you in?  
eM: I just remember being in choirs at such a young age and my parents then encouraged me to learn piano for a couple of years. I then moved onto learning clarinet and when I reached high school, I had a fantastic music teacher who singled me out when I was 13 to sing solo. I have always had the encouragement to express myself through music and particularly singing.
J Rae: How can we all make this world a better place to live in?
eM: I don't think I have enough room to put this all down Jimmy lol so I will keep this simple.
We all need to get back to these three things:
Respect: Respecting each other and respecting our environment
Love: Loving each other and particularly loving ourselves first
Help: Everyone should be either donating to a charity or volunteering to help others
If you haven't heard of the artist eM yet then get ready because she's been blowin' up on the music scene as of late.   Life is all about motivation, dedication and inspiration according to eM as you will witness her creative spirit come pouring out of her music.   To find out more you can check out these cool sites: www.youtube.com/mzzemmusic, www.soundcloud.com/em_melbourne and www.mzzem.com/bio.   I'd like to leave you with a quote from eM herself that makes perfect sense and really sums it all up: "I believe in taking people on journeys in my tracks, videos and releases so my whole musical career is one big journey."
By Jimmy Rae (jrae@skopemag.com)