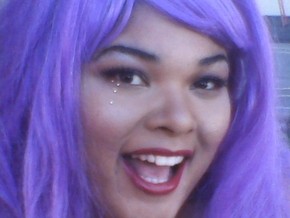 Next Sunday night will be a special night in Oakland, CA as Eye'z celebrates her birthday party in her city of Oakland, CA. Eye'z has always been a huge supporter of Skope so we decided to sponsor and cover this event. The night will be hosted by the hilarious Jay Rich. Join us today as Eye'z speaks on the big party, what songs she will perform, who will be there, and much more! See you Sunday night!
Skope: Where are we speaking from today and how is your summer going?
Eye'z: I'm very happy to say my summer is going great! ITS MY BIRTHDAY! I'M HAVING THREE CAKES!
Skope: How do you try and keep cool when the temperature hits over 100 degrees?
Eye'z: I don't keep cool. I'm HOT!              
Skope: Your birthday party will be on August 5th at Soundwave Studios in Oakland, CA. How did this big party come to be?
[youtube yN_sFG9dOvU]
Eye'z: It came to be because last year I put together a show, and people kept walking up to me saying happy birthday and people were all like "I'll go on after you cut the cake" lol so i figured if im going to put together another show it mnight as well be on my birthday :-)
Skope: Please tell readers about who will be performing that night and what kind of show they can expect?
Eye'z: They can expect VARIETY! I have everything from live pop sisngers such as my self, comics and rappers. I met Jay rich years ago but i didnt start getting to know him until recently. He's funny.
Skope: How did you decide to book the show at the Soundwave Studios?
Eye'z: They were cool.
Skope: Have you been working on any new music lately and will you be performing the songs that night?
Eye'z: YES I HAVE! And this is why I want to share my birthday with the public, so they can hear the new music I have been working on.
Skope: Will there be video posted on Youtube of the night and what is the URL?
Eye'z: No there won't be a video, you must come see the show.
Skope: I see you on Facebook alot. How much does social media help you reach new fans and stay connected?
Eye'z: It actually helps alot as far as keeping your face out there.
Skope: So who will be your date for the party or will you find someone that night?
Eye'z: I wasn't planning on having a date, but maybe I will now since you mentioned it. Wow I really gotta think about that. I have an assistant, nah I cant be making him do that. Who wants to be my date?
Skope: What is coming up for Eye'z and where you @ online?
Eye'z: Eye'z is taking over! Dont find me online come, to my show!
Eye'z Birthday Party – Hosted by Comic Jay Rich
https://www.facebook.com/events/413204722065308/
August 5th @ 8 pm – 11 pm
SOUNDWAVE STUDIOS
2200 Wood Street
Oakland, CA 94620
http://soundwavestudios.wordpress.com/
Sponsored By Skopemag.com & Thelovelyeyez.com
Info & Sponsors Contact: eyemsoeyeze@yahoo.com
Eye'z – http://thelovelyeyez.com