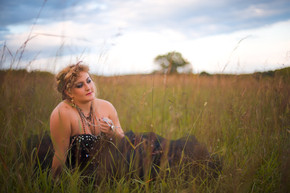 Coming out of Northern Virginia, we meet Sammy Hakim. A young inspiring songwriter and compositions only 16 years old. With her style covering different genres of music. Today we interview the upcoming young star and look into the insights of this brilliant singer.
DZ: Hello Sammy, How did you came with the name Sammy Hakim? Was it a given name or was it a name you picked up as a artist?
Sammy Hakim: Well, I'm actually a Samantha, but the name was always too formal for me. Sammy is a little more fitting with my personality, so I took the nickname and ran with it. Other than that, the name is my own!
DZ: How long have you been playing music? What inspired you to do music in the first place?
Sammy Hakim: I've been playing music since I was a baby. My parents used to call me baby Elvis. However, I only started songwriting three years ago after my best friend was talking about how much she wanted to marry Nick Jonas. She was so insistent about it I was eventually just like, how. How are you going to marry this man you've never met? She shot back with a quick I'm going to be an actress. I smiled at her and was like Fine. I'll be a famous singer. From there I wrote my first song and fell in love with it. Other than that, I've had a lot of inspiring moments, through emotions and the things around me, to people like Bruce Springsteen, who gave me one of his guitar picks and called me little darling when I was nine, and Elvis Costello, who taught me to do what feels right to you, not what others are telling you to play.
DZ: What was the biggest struggle being a younger artist compared to older and established artist who are already in the field?
Sammy Hakim: It can have it's disadvantages, but I personally feel it's more of an advantage. Sure, the older artists have the experience and exposure, but this means I have years to learn from them, as well as develop myself, to get to where they are, and exceed expectations.
DZ: Do you compose most of your own songs or do you have band, or is it a mixture of both?
Sammy Hakim: So far I compose all of my own songs. I don't have an official band yet!
DZ: What inspired you to write the latest single "Fearless" featured on your website?
Sammy Hakim: Fearless is a combination of a lot of inspirations. There were two real things that inspired me to do it though. One being the way you feel in a relationship where you just need to get out, and the other being bullying, and the way you live in fear all of the time. People are merciless until you take a stand against them, and get help. No one deserves to live like that. We all have it in us to become Fearless.
[youtube KoHDAj-amBw]
DZ: You have an amazing voice for someone as young as you are. Who influenced you most for your vocal style?
Sammy Hakim: Thank you! I don't have one specific influence, just for vocals though. I do remember listening to artists like Taylor Swift, John Mayer, and more, and singing their songs all the time. I assume that's what helped me develop my own style.
DZ: What is your favorite instrument to practice in your free-time? What musical styles do you play instrument-wise? Any particular pieces you practice consistently?
Sammy Hakim: I prefer to practice on the guitar and the piano mostly- whichever is available. I usually stick with pop, country, rock, or alternative music. When I'm not practicing my own music for shows, I catch myself playing a lot of Ed Sheeran.
DZ: What goals do you aspire to reach with your music? Any future releases coming up that the fans should know about?
Sammy Hakim: I'm hoping to be able to share my music with the world, and really connect with people. Share a message. As for future releases, I'm about to release another single, Mark Me soon. It's a more poppy, fun song with a little bit of something for everyone! Keep an eye out for the release date on my website, twitter (@Sammy_Hakim), or Facebook page!
DZ: Thank you for taking the time for allowing us here Skope Magazine to interview a young talented artist such as yourself. We hope to see more of your work in the future.
Sammy Hakim: Thank You! I'll do my best to never disappoint! Hopefully we'll talk again soon! :)
For more Sammy, please visit http://www.sammyhakim.com
By DZ – datrill1@gmail.com