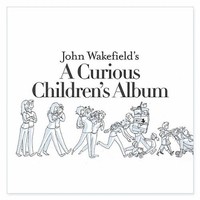 Inspiration, at times, is a strange muse. Sometimes ideas flow from the deepest inner well. Other times, it is some thing seemingly unrelated to creativity. And sometimes it is "creation" itself that prompts us. In the case of John Wakefield, it was "procreation" that ushered forth A Curious Child's Album, after his wife told him they were expecting their third child. Wakefield has delivered a 12-track album rife with New Orleans style horn Jazz, big band waltz facets and mainly, humor, all in homage to "a day in the life of a parent."
www.cdbaby.com/cd/johnwakefield
The album opens to "iDrool" with horn honks, tinkling piano and slight brush snare. Lyrically, the humor is at the forefront with namesake crooning about (literally) a baby's coming to grips with learning to keep saliva in their mouths. "Everybody listen/ when my chin begins to glisten/ and a drip upon my lip begins to pool. When my shirt feels like its been in the rain/ and these teeth are driving me insane/ wish I were the exception to the rule/ iDrool." "Don't Forget" is a prototypical New Orleans style Jazz with staccato percussion timekeeping and intermittent brass fills. This toe-tapper continues the album ethos with lyrical matter regarding diaper bags and minivans. "I'm Just Wakin' Up" opens to "mouth trombone" with bent-note blues electric. The down tempo "feel" of the song coupled with the lyrical matter of an attention-needing baby waking in the middle of the night fits well as the hazy, lazy track plods along, all the while feeling "sleepy." Serving as the closest thing to an instrumental track is the boppy "Here Comes Chubby." This tuba-, trombone- and snare-led song actually conjures the image of a clumsy, crawling baby as it is spiked with the lower octave occasional chorus of the namesake. Again, the musicality completely matches the mental image conveyed by the track.
[youtube EYllTydGvoU]
I must admit, I approached this album with much trepidation. First, with no children of my own I was afraid I would fail to appreciate the "trials of being the parent of a newborn" ethos of the album. Secondly, I was afraid there would be no way to pull off the album without the kitsch. Wakefield allayed all those fears by pulling off a "clever without the cheese" children/adult album hybrid. Again, the musicality is uncannily matched to the song message in tempo, feel and choice of instrumentation and the myriad of genres is wide in breadth. Good, good music laced with a lighthearted, tongue-in-cheek humor about what is usually a very, very stressful period of time in the life of parents–well done, sir.
by Chris West – cwestlaz@gmail.com
[Rating: 4/5]