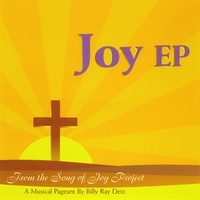 Billy Ray Deiz has been around music his whole life to where he even enjoyed success with one of the hottest bands in L.A. back in the 60s called The Seven Souls.   That group included the late Bob Welch who later went on to play with the legendary Fleetwood Mac and The Seven Souls definitely broke barriers during that era by being racially integrated.   That was THEN and this little bundle of 'Joy' is NOW for Billy Ray Deiz.  
Deiz is not just a singer/songwriter with a deep musical background but more importantly he is a mere person with an overload of pure soul.   From opening for such iconic acts as: James Brown, The Righteous Brothers and Mel Torme with The Seven Souls to playing for the sake of faith alone is the current mission for Billy Ray.   With only three tracks on this 'Joy' EP, it's incredible how Deiz captures so much life & spirit in just 10 minutes and 84 seconds.
The music definitely lies within the Christian music market but Billy Ray incorporates other elements such as: jazz, gospel and plenty of feeling from within.   The overall sound is very catchy and polished to the core with such a light, easy & delicate texture.   Billy is not just singing from his own heart but he is singing for ALL of the hearts out there that believe in the creator himself.  
The featured single on this EP is titled "Gimme Cracked Corn" and there is also an instrumental version as well.   The song features a wonderful tenor sax part from Nashville's own Jim Hoke and I must say that I was overly pleased with this sound.   Nothing like a wailin' sax to set the mood just right!   Throw in some light jazz with Billy's insightful words as the song calls for the lord Jesus Christ to come and "teach us to pray".   "Keep The Faith" shines bright on this disc with another fine Nashville musician added to mix.   You will hear gospel-sounding vocals by Britt Savage who really does a nice job on this number.   The lyrics from Diez really hit me on "Keep The Faith" where you'll hear things like: "And faith will keep you whole and keep your soul" or "God's true north, your compass he's your guide".   One line that truly stood out to me the most out of any on the 'Joy' Project was simply this: "There is so much joy in life when you live with God inside".   That statement right there is so powerful and rings loud into my ears, body and soul.   When you allow God into your life at all times well then the real truth shall set you free.
Today, people need God/religion more than ever and Billy Ray Deiz is showing us the way.   Especially during times of crisis or heartache like the tragic massacre that just happened in Colorado where 12 innocent people were killed, this is a time more than ever to not lose the faith.   Billy Ray Diez urges us all to "Keep The Faith" or else we lose the battle in this thing called life.   True 'Joy' is much closer than you think, so let's ALL come together to make this world a better place to live in.   Peace and love from this moment forth and having the spirit of God inside of us guiding the way is our only answer.   You can purchase the EP right here: http://www.cdbaby.com/cd/billyraydeiz4.  
By Jimmy Rae (jrae@skopemag.com)
[Rating: 4/5]