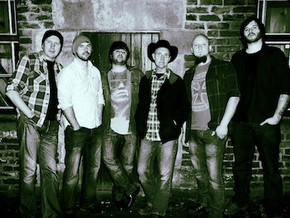 Freight train rockers Jerzey Street Band are set to make their US debut with the release of their striking new album, Breaking Radio Silence on September 18, 2012.   These Brit rockers will be right at home in the States; their comforting Americana anthems conjure images of convertible top-down car rides, lost loves, and most importantly, give you the warm & fuzzy feeling of returning home after being away for far too long.
TWANGY BRIT POP SINGLE "PALE BLUE RIVER" AVAILABLE FOR FREE DOWNLOAD:
SKOPE IT HERE!
 
To celebrate the album release announcement, the band has made the twangy, toe-tapping track "Pale Blue River" available for free download/stream. Channeling tinges of Tom Petty during his Mudcrutch days, the track seamlessly straddles the line between melancholy and uplifting:
"… I don't ever feel at home, thought this world was mine to roam."/ "We all shiver to the bone, gotta make it on your own" / "We're all crazy too."
The song has a heartening familiarity about it, as if it might be an Eagles song you heard at a party that one time.