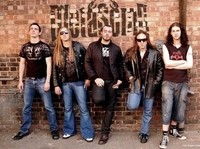 With their hard edge and sharp sound, Metasoma's music is hard to nail down to one genre. One listen to any track will leave you mesmerized by their diversity in the rock realm of sounds they have to offer the music world. On "Metal Erosion", Voytek Golbiak blazes in with his lead axe opening what can be described as crushing. The bass of Lewis Powell, axe of Michael Sedzielewski, skins of Vaughan Houseman then come in with a devastating crossover that would have any audience immediately on their feet with chills down their spines. This being the intro leading up to the coursing rhythm of the track, the listener is pulled right in from the start. With elements of 80's metal bands and a hint of classic rock with a kick, Metasoma offers a sound that is very unique in the realm of rock that is refreshing.
On the track "Older", the rhythm is reminiscent of older metal, with lyrics from Amro Aleks that sound like a newer cross between Fred Durst, Mike Muir and Bruce Dickinson. Offering a newer feel to a classic sound. A great sound for a live show, which is where Metasoma seem to have their strength in music. Being a hard working band that plays many live shows, one can not sit during any track the band has to offer. With their high energy and storied lyrics, any concert goer is immediately brought into the world of Metasoma music with hard edge feeling and a sound that at times seems so familiar, but just out of reach in nailing down.
Definitely being a crowd pleaser, the track "Lost My Way" is beat and bass driven with breaks and leads that take you on a ride you won't forget. With the mentioned breaks, one envisions a rest for the mosh pits for a moment, before blazing back in to get them fueled once again. A great track giving you the live feel, even if your sitting on your couch at home with headphones on. A feat that isn't very easy in today's music, Metasoma have nailed it in every aspect.
Vocalist Amro Aleks range from track to track is amazing. He can belt out the high pitched styles of the likes of Dickinson, then switch right into the grainy growls of some of today's best death metal bands. Screamo, classic rock, death metal growls, arena rock pitch, alternative feel, hardcore slices, Metasoma definitely brings the whole spectrum of sounds in each track they offer the music world. Seeing them live is how the listener is yearning upon listening to any number of songs the band have offered up. The music constantly delivers and fuels the vocal range of Aleks. The placement of bridges and hooks are perfect with the lead of Golbiak shining through at all the right moments. Never offering too much, but just enough to leave the concert goer exhausted but wanting more from the band.
Metasoma are definitely a band that exerts it's best power in a live setting. Not taking anything at all away from their studio offerings, as you would feel like you had been to a show just by putting the headphones on and closing your eyes. As each track ends, it leaves you wondering what journey the next track will lead you on. Not for the tame at heart, Metasoma are a high octane hard rock/metal band that deliver on so many levels. For the guitar enthusiast looking for great leads and hooks, Golbiak delivers to you. For the bass minded rhythm guitar lovers, Sedzielewski and Powell cater to you. For the blasting skin lovers of double-bass pounding beat driven music, Houseman is your god. For the lovers of multifaceted lyrics with ranges from glass shattering pitch to low growl to spoken word, Aleks comes with every range imaginable for you.
Overall, Metasoma deliver a sound that can live in any realm on the rock spectrum. Which can make their crowds at shows so diverse. With a little of everything to please all who attend. In the studio working on their full-length release, and always touring every stage they can hit, Metasoma is definitely a band to keep an eye on in the near future. Already receiving acclaim from all in the Independent music scenes, Metasoma are already on the map. Soon to be all over the map blazing a path that many are sure to try and imitate and look up to as the way great live music should be done.
By L. White
Metasoma Sites:
Facebook: https://www.facebook.com/pages/Metasoma/147688001960438
ReverbNation: http://www.reverbnation.com/metasomalondon
Myspace: http://www.myspace.com/metasomakicksass