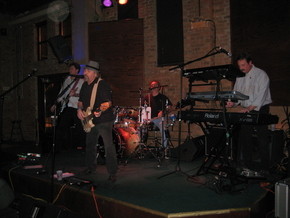 Looney Train is a group that performs around the Chicago area. They have opened for many headliners including The Buckinghams, Jimmy Jaimeson of Survivor, the late Davy Jones, Mickey Dolenz, Mark Farner, and The Temptations.   They released their first CD in 2010 and now are working on a second.   This band is a get up and dance and feel good group that simply love to entertain.  
 
Tell me how the band got together and a little about each of you.
 
We all belonged to a 'Monkees/Beatles' tribute band known as 'The Coyotees'. We all got tired of the Monkees/Beatles music and decided to do our own thing. If you listen to the first verse of 'The Looney Train Anthem', it pretty much says it all: "We're a band that took a stand, we had enough of Monkee stuff; so we reformed, now we're reborn, we have a say in what we play…"   Bassist and lead vocalist, Len Stalec has played in rock bands since he was in high school, and all around the Chicago area. Len is a talented musician, he also plays guitar, mandolin, saxophone, and flute.   Our guitarist, John Moffett, "I met the band through our bass player, Lenny, whom I have known for many years from previous bands. But I will always remember my first vision of Keyboardist Steve. He was coming to my first practice/audition on a Halloween night wearing a scary fright wig. He climbed a fence to enter at dusk and all I could see was his silhouette in the night sky. I thought I was being mugged, and now I trust him with my life." Dan Cavazos has been a drummer for many years and has played with many other bands since high school. Dan is an accomplished percussionist as well as a drummer.   Stephen 'Steve' Dawson started his music career kind of late. After taking guitar lessons at the Old Town School of Folk Music in Chicago, he joined up with the Coyotees. They didn't need another guitar player, so he started playing the keys. With the demise of the Coyotees, Steve took on the responsibility of keyboardist with Looney Train. 'The best decision I have made since I married my wife'.
Who are your inspirations?
 
All of us have been inspired by many artists. Len has been inspired by Gregg Lake, Geddy Lee, Chris Squires, and all bass players who can sing.   John has his roots in blues guitar, favoring Stevie Ray Vaughn, Eric Clapton, and David Gilmour. He would rather bend one or two notes and make it cry than run so fast through a scale that you miss the point.
Dan gets inspired by bands like Toto, Styx, Journey, LP, Tears for Fears, Heart, Asia, Todd Rundgren, and Survivor just to name a few. As a drummer I like to listen to bands like these because of their technique and different drum styles.   Stephen majored in Speech and Theater in College and has musical theater imprinted in his brain. Artists like Meatloaf, Boston, David Bowie, Plastic Bertrand, Frank Zappa, ELP, Mozart, and Wagner have given Steve an eclectic vision of music.
Who writes your songs?
 
We all take part in writing the songs. Since Len has the most chips in the bank most of the songs are his.
Tell me about your current CDs and EPs.
'One Way Ticket' is our first all original CD, and it came out in the Summer of 2010. We all had a hand in writing the songs, even our sound man has a song he wrote on the cd. The material is a collection of songs that are inspired by life. We truly believe the more experiences you have in this world, good and bad, the better you can write. The words and images of "Do You Need A Friend" are haunting.
[youtube DM7ZXJmdGfc nolink]
What projects do you have in the works?
 
We have all ready started working on the writing for our second cd. Since we gots to gig in the summer – that's where the fun is – then this winter we'll hunker down and put our next cd together from the momentum of what we learned from the past couple of years of being together. Life is ever so precious and musical composition is the best way to express our feelings.
[youtube G99Oxkx4eH4 nolink]
Give us some history on who you backed up and where you have been performing.
 
Looney Train has performed on the Best Buy Stage at the annual Taste of Chicago. We have played at the Arcada Theater in Aurora, Illinois opening for the late Davy Jones. We have played a number of other festivals, opening for Mark Farner of Grand Funk Rail Road, Jamie Jamison of Survivor, The Buckinghams, Mickey Dolenz of the Monkees, The Temptations Review, and many different clubs throughout the Chicago area. Also had a year long run with the Cheeseburger in Paradise clubs in Downers Grove, Il and Algonquin, Il.
 
What do you want listeners to get from your music?
Our music tells our listeners of where we have been and some of our music will tell of things that have happened to a certain person in the band but may also reflect on how others may feel. Our music brings a unique blend of talent and writing that makes Looney Train possible. Our friendships in the band help us stay together as a family and it shows when we play.
We would like our audience to just enjoy the tunes and take them for what they are; music created by common folks for their enjoyment.   We also think that the music makes them feel good and that they would want to repeat it in their minds for their own satisfaction; plus a little bit of energy where we kick it in!
 
What would you all like to be doing 5 years from now?
Steve hopes to be doing what we love, playing music that people enjoy, and making people happy to listen, dance and express themselves.   Dan hopes to still be playing with Looney Train and reach more people with our music. He also hopes to have a few more cd's out by then and to play for larger audiences, and possibly a mini tour somewhere. Len wants to still be breathing oxygen. He is not in this for fame or fortune, but rather to make music that people can enjoy and maybe bring back a few memories.   John is a little more ethereal: 'Mentally I would like to achieve a higher realization of inner peace, understanding and acceptance of everything around me. Physically, I just want good health – I don't care where – not important…'
website: http://www.looneytrain.net/
Diana Olson – diolson05@yahoo.com