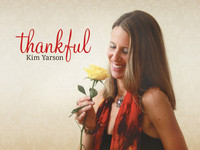 About the Artist: This is Yarson's second release. She's based in Trenton New Jersey and was recently nominated at the Jersey Acoustic Music Awards, awarded 2010 Top Female vocalist and Top Female Songwriter for 2011. Impressive to say the least. Here mantra: "I write and sing songs to paint hope and promote healing with one foot here on earth and one in heaven." If some of the above doesn't get your attention then I don't know what will.
Review: Thankful is one release that certainly doesn't disappoint. This is artist that brings to the table effective songwriting via a highly marketable musical delivery. This meshed with a one in a million Pop-Rock sound and effective visuals and vocals makes for a very effective combination no doubt. Kim Yarson is just a breath away from Modern Folk or even Country but skillfully and methodically never crosses the line into the realm. All songs are wonderfully simple but masterful in their overall arrangements. Music reminded me of a cross between Tracey Bohham, Katy Rose and Patty Griffin. This CD is quite entertaining overall with an amazing vocal front of Kim Yarson who is a musical triple threat in my mind.   She is a world class songwriter; she has an amazing voice and has likeable appeal (visually and vocally). Her lyrical content is straight from the heart and offers a very strong and confident female perspective and spirit. This doesn't mean many males won't love her as well because I did. All song do exactly what they are meant to do   via well-crafted movements and top tiered musicianship. The overall production value is superb with a crystal clear sound quality.
Top Tracks: The Falling, Make   A Bridge In The Moment
Criticism: Kim Yarson should put at least one "Bad or Naughty Girl" Fiona Apple like statement on her CD that goes against the grain of the rest of the material. I think this will keep people guessing, off center and speak to more fans in the process.    
Song Samples from Thankful @ CD UNIVERSE: http://www.cduniverse.com/productinfo.asp?pid=8588149
Conclusion: Kim Yarson has proven herself again with this latest release. She is clearly an up and coming talent around New Kersey all band members backing her up are clearly capable musicians. I must admit "Thankful" sucked me in like a powerful drug and refused to let go long after the CD was over. This usually indicates he is something special about the artist or band in question. Thus deserving praise, recognition and musical fame at the international level.
Drew Blackwell edited by Rory Richardson
[Rating: 4.5/5]