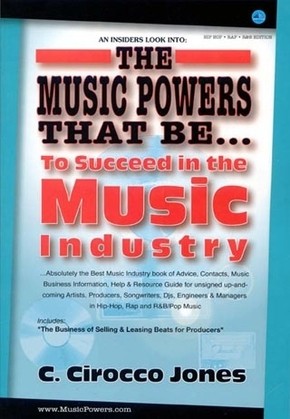 Man it is hot out there! I would just like to speak on a press release I got yesterday for a new show on E! called "Opening Act." The show gives unknown artists a chance to open for mainstream artists like Rod Stewart, Nikki Minaj, Gym Class Heroes, etc. I just want to say that as a proud member of the independent music scene I am all for this exposure. It is nice to see the mainstream media finding value in upcoming bands/musicians. Today I am really excited to interview Cirocco and talk about his company Musicpowers.com and new e-book "The Music Powers That Be." This book is called the best music industry book of professional guidance, contacts, Music business information, real help & resources for unsigned artists & producers." Join us today as Cirocco offers insight into how you can advance your music career and so much more!
Stoli: Where are we talking from today and how is your summer going so far?
My summer is going well, thank you. I'm in Atlanta…where I live.   It's hot here this summer.
Stoli: Yesterday the Supreme Court deemed President Obama's healthcare plan as constitutional. What do you feel about this for you & your family?
C. Cirocco Jones: I think it's a good thing.   Everyone will now be required to have insurance. This will change the healthcare industry for sure, and in time… because there will be more people required to buy health coverage, it should make health insurance more affordable for individuals like myself.   Like many musicians and self-employed individuals, I have to deal with healthcare independently — without it being part of a benefit package at a job.
Stoli: I am really excited to talk about your new book but first offer Skope readers a brief history of you in the music business?
C. Cirocco Jones: I have been in the music industry most of my life. I started out as a musician in my teens — playing clubs as a guitarist. I also went to a private audio training school when I was 17 for engineering. By the time I started college, I was a "working musician", traveling, doing studio sessions, and making pretty decent money.   I eventually met producer/engineer Jeff Glixman, and he gave me my first break by signing me to a development deal with his company and studio to learn and enhance my production and studio skills.   I then went on to being signed with Hush/Orpheus Productions in NY, and was then signed with Geffen Records.   I moved to Los Angeles in the 90's and signed with Motown as a staff producer and A&R Consultant.   I have also worked with many other great companies like Pepsi, MCA, RCA, Elektra, Sega, and Dove, along with legendary artists such as Michael Jackson.
The Music Powers Professional 4-Pack @:
Buy: http://www.musicpowers.com/id228.html
Stoli: Now that the book "The Music Powers That Be" is out. Who would benefit most from giving it a read and where can they grab a copy?
C. Cirocco Jones: The original 2006 paperback book is still available at Amazon.com, but it is very expensive.   Last time I checked (July 2012), a new copy was running about $1,600 in the USA, and more in Canada and Japan.   This is because it is considered a "rare book", as the original version is no longer in print.   We do sell a slightly updated version from 2009 as an e-Book download at Musicpowers.com for about $19, which is a pretty good deal.   I pulled the book from print because I did not want to have multiple editions out at the same time.   There is a 2nd Edition coming out before the end of 2012… probably in November.   In the meantime, we have set up a package at the Musicpowers.com website called "The Professional Pack".   For only $29, this package gives you the download e-Book of "The Music Powers That Be", along with an updated 2012 Management directory, and a small music business contract bundle.
Stoli: How long were you working on this book and who offered help & advice along the way?
C. Cirocco Jones: The original book took over 3 years to complete.   And the 2nd edition has taken about 3 years to update, add new sections, etc.   The book has great insider advice, information and guidance from people like Super Producer DJ Toomp, Power Attorney Joel Katz, Songwriter/Producer Manuel Seal Jr, Jason "J-Vibe" Farmer, Ricco Lumpkins, Wallace Collins, Ben McLane, Emperor Searcy, Harry Lyles, Dante Chestnut Sr., Dina Andrews, Alvin Speights, Jerry Flowers, Sir Charles Dixon, Debra Killings, Vince Phillips, Mr. Collipark, and other successful industry people.
Stoli: What are some of the major points in the book that you knew you had to cover and is social media included as well?
C. Cirocco Jones: Well, we focus a lot on the fundamentals of the music business; publishing, production, terms, what's fair, etc.   We also cover things like producer points, artist recoupment, music publishing, mechanical publishing, performance licensing and publishing, all of which are still pretty much the foundation of getting paid in this business.   You still need to get booked, get on the road and try to build a following, make friends at radio freebie-promo shows, and make money whenever possible doing live shows.   These things are featured in the original edition.
The original book does not cover using social media for music.   The 2nd edition will have a few points on social media in it that I feel are very important, but will not go too overboard.     I was flown to Los Angeles and helped in the signing of a young talented kid named Ryan Beatty, who has a huge social media following.   And I can tell you…this kid just "has it".   He has that "it-factor or x-factor".   So, can someone really tell you how to get that indefinable thing?   NO.   All you can do is say, "Yes, use Facebook, YouTube, Twitter, etc. to build your fanbase from the "magic" you have with your music, buzz and "movement".   It's definitely important, and is great for testing what you have too.   People love to express themselves online on things they love…or hate.   It's when they say nothing that will let you know you may be in trouble.
Stoli: What are some mistakes and misconceptions that you have seen many upcoming artists fall for in the industry?
C. Cirocco Jones:
1. Thinking that just because someone has money to invest in them, that those people have the "know-how" to help them become successful.
2. Many artists start believing their own hype that was created for them to have attention drawn to them.
3. Getting a record deal is just the beginning…and is basically another step to becoming a successful recording artist.   Some don't realize that after you get signed, now you have to go and compete against Rihanna, Chris Brown, Beyoncé, Katy Perry, etc.
Stoli: Many people believe that you must submit to the Illuminati to make it in music. What do you say to this theory?
C. Cirocco Jones: There are artists that pay tithes to their church organizations, etc., and are of Christian faith.   Others have other faiths. Actually I have been in Bible—based prayer right before some meetings and sessions with some very successful people in music…and they were not members of any illuminati cult thing.   So, although there are illuminati members in many different industries, including entertainment…I definitely know some very successful music people that are not a part of that.
Stoli: I suggest all readers go to your site http://musicpowers.com. What kind of products & services can artists check out on there?
C. Cirocco Jones: The Music Powers project was developed to help up-and-coming artists and producers…but it was also created to assist established artists that may be having trouble getting paid or navigating through this business.
Honestly, if you are an up-and-coming artist, producer, songwriter or even manager, I would highly suggest getting a download of "The Music Powers Professional Pack".  
It contains the e-Book version of "The Music Powers That Be", "The 2012 Official Music Industry Contact Directory", a Music Business Contract Bundle, and access to a great list of Power-Broker Music industry attorneys.
The packaged bundle is affordable, and it has a lot of information that can help you understand this business to hopefully help your music career.   We also sell contract templates, music business books, music industry contact books, and also assist with email marketing.     Our book clients have ranged from up-and-coming musicians, artists, producers, and music business students just starting out — to established music industry heavyweights like Chris Brown, T.I., and Simon Fuller (Idol, 19 Entertainment — XIX Entertainment).
Stoli: Who are some acts that you have worked with and are you looking to take on new talent?
C. Cirocco Jones: I have worked with a lot of artists and producers, from Michael Jackson, to producers like Manuel Seal Jr, Dallas Austin & Alvin Speights.
Yes, I will be looking to take on some new acts, but I will not be ready to put the time, energy and focus into the audition stage until I release the two new books I'm working on for the Fall of 2012.   Also, two of my songwriter/producer friends, Manuel Seal Jr and Jerry Flowers will be involved, but they also have projects they are completing before we get started.   There will be a pretty big announcement across the web, and in a few magazines, etc. when we are ready to start auditions.   It's going to be something very special.
Stoli: What advice can you offer to the musician who has posted music online and wants to get heard by industry & fans alike?
C. Cirocco Jones: Try your best to build a real organic fanbase…that is key.   Being good or very interesting, or being able to "touch" someone emotionally (good, bad, funny, sad, etc.) with whatever you are doing is key too.   You can have money behind you, a big name producer, and a $40,000 music video… but it will not be as effective as having that intangible x-factor that draws people to you and your music.   Get people talking about you online, on YouTube, on Facebook…and the industry will soon want to know you too.   If you can build a great following — web trending reports with big numbers of legitimate followers and channel subscribers to your "movement"…then you are probably on your way to some very good opportunities.
Stoli: What is the most exciting & daunting aspect of breaking into the music biz today?
C. Cirocco Jones: Its always exciting to be part of any music project and see it go from being "just an idea"… to experiencing it in the release stage…. or even better — experiencing the song doing well and charting.     Even when as a songwriter or producer when you've come up with a great melody, lyric or music track, and then you're sitting somewhere like your car or anywhere listening to the radio, and your song comes on the air of the radio station… it's a wonderful exciting feeling.   On the other side, it can be pretty scary to get the budget you need, and give your best effort on a song or project… but still not really know if the public will embrace it.   Actually, its also a bit daunting when you have a lot of the initial backing you need to get a project going, and you give your best…but then maybe the people managing or running things with the money don't really understand the complete process of going from studio, to the marketing and promo push, to the road, and then hopefully to the charts.   Over the years, I have witnessed people and companies "drop the ball" with potential hit records and hit-potential artists in their laps.
Stoli: Whats coming up for Cirocco & Musicpowers.com and how can we follow you?
C. Cirocco Jones: I am still doing some consulting work, and will always be doing seminars and lectures for some of the colleges that have music business and music production programs.   My focus through the end of 2012 will be to get the 2nd Edition of "The Music Powers That Be" released before the Christmas holidays, and also get a paperback "pro edition" of "The Official Music Industry Management Contact Directory" released in Fall of 2012.
The main website is www.MusicPowers.com
You can follow us on Facebook at: www.facebook.com/MusicPowers
I'd also like to say, "thank you" to Skope Magazine for your support of the Music Powers project.   We sincerely appreciate the love.