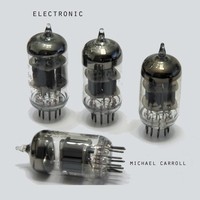 "Electronic" is one release that certainly doesn't disappoint. This is one artist that brings to the table effective songwriting via a very original sounding musical delivery. This meshed with a one in a million Spaced out Ambient sound makes for a very effective combination. "Electronic" even touches on tripped out-psychedelic-chill-dub, almost as if you're listening to a Science Fiction Movie soundtrack. All songs are wonderfully simple but masterful in their overall arrangements. Music reminded me of a cross between Praga Khan, Apollo 440, Kevorkian Death Circle and Apoptygma Berzerk. This CD is quite entertaining overall with an amazing amount of   drama and sheer   unpredictability. You never know what's waiting for you around the next corer. The overall score and writing is quite appealing via well-crafted pieces and top tiered sampling and sonic touches. The overall production value is a bit off center — especially on high end speakers and stereo systems. Perhaps that's what he was shooting for. Favorite pikes are Waken Part, Limbo, and Aspect.   There's plenty of mystery and mind blowing moments to go around on "Electronic"   gives Michael Carroll an amazing feel in his attempt to connect with a cult fanbase.
Michael Carroll: Band members include (1) singular composer Michael Carroll (Programming, Composing, Sampling, Musical Score)
Michael Carroll has proven themselves with this latest release. This is not his first release as he is clearly an established talent around the Arizona area. Carroll is clearly capable songwriter, artist and composer.   I must admit "Electronic" sucked me in like a powerful drug or Black Hole and refused to let go long after the CD was over. This usually indicates he is something special about the artist or band in question – thus deserving of praise, recognition and musical fame at the international level.
MUSIC can be purchased at JUNO DOWNLOAD – http://www.junodownload.com/products/electronic/1977661-02/
URL – http://www.candyloop.com/
by Drew Blackwell edited by Rory Richardson
[Rating: 4/5]