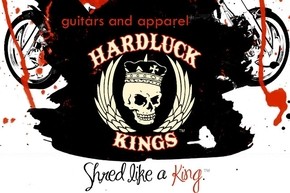 HLK was founded by Mark Goldstein, who's passion for rebel culture and rock n roll led him to create something unique, sexy and a little bit dirty. Welcome to Hard Luck Kings Guitar Company.
Interview done by MG the founder/owner of The Hard Luck Kings Guitar Company.
Q. What inspired you to start HardLuckKings?
My vision for HardLuckKings [HLK] was to create a rock n roll company in the rock n roll business. Many of the guitar companies align themselves with heavy metal, however that's not us. We're into all kinds of music including rock, punk, country and whatever makes you happy. We're less about being tied to any type of specific music and more into the "Rebel" culture and just being yourself. In fact, if you look at our artist roster aka: The Kings, you will see we have artists from all different genres of music.
Q. How did you get your start and how long have you been in business?
I worked for another instrument manufacturing company prior to launching HLK in July 2010.
Q. Tell us about your guitar models?
We currently have the Bossman, Bombshell, Southern Belle, Spider, Fat Daddy bass and the Lady Luck coming out this summer. All of our guitars are traditional body designs, however each has it's own custom fret marker.
Q. What's the difference between the Chop Shop series and the Coupe De Ville series guitars?
Our Chop Shop series are equipped with Rosewood fretboards and our Coupe De Ville series have Ebony fretboards.
Q. How are your guitars priced compared to the competition?
Currently we're under priced considering you're getting the guitar which we professionally set up, a top quality hard shell case and we pay shipping costs in the USA and Canada. We constantly get told by consumers & pro's who receive our gear that our prices are way too low. However, in these rough economic times we're trying to give the consumer a great value at a fair price.
Q. Where can we buy an HLK guitar or apparel times?
Everything is currently available online at http://hardluckkings.com or you can check the "Dealers" section on our site. We also recently loaded our apparel into one of the Southern California's premiere Harley Davidson Dealerships, Barger Harley Davidson, which is pretty cool!
Q. What can we expect from HLK in the future?
We're currently working on some of our HLK Kustoms which are our guitar models with custom paint jobs and and real high end components. We're also working on coming out with an acoustic guitar and we're hoping to expand our apparel line with some really cool stuff.
Q. We heard you've never run an ad in a print magazine, is that true? And you have almost 50,000 people following HLK on Facebook?
http://www.facebook.com/hardluckkings
That's correct, we've never run an ad in a print 'zine to date. The whole thing has been word of mouth or even 'underground'. In January 2011 I believe we had around 600 FB followers and it has just exploded ever since. Even if you don't play guitar, I think people still dig the brand and word has it the 'bombshells' [HLK bikini models] help too!
By: Douglas Garnett – douglas.garnett@gmail.com