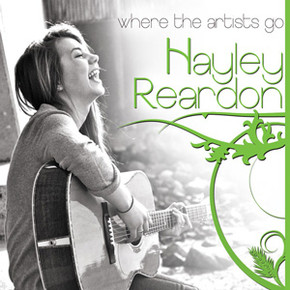 Acclaimed 15-year old singer-songwriter Hayley Reardon has issued the title track from her debut album Where The Artists Go as a free download via Bandcamp at http://www.bit.ly/wheretheartistsgo for a limited time before the official single, that includes three different versions, is released on July 17 via Kingswood Records.
"Where The Artists Go":
Deeply reflective of what it truly means to be an "artist," regardless of the medium enveloped or passion embodied, "Where The Artists Go" is an apt introduction to the encompassing artistry that is Hayley Reardon.
Hayley elaborates, "'Where the Artists Go' is about looking for the artist in everyone. The song was inspired by an eighth grade social studies project where we were asked to draw ourselves exactly as we saw ourselves. A boy in my class that I hardly knew had drawn a self-portrait that so beautifully captured the explosion of light and color inside the mind of an artist. I was so inspired by the fact that this quiet boy in my history class that I had known for years, had such light and passion inside of him, and that I got to see a glimpse of it that day. It got me thinking about what kind of explosion of creativity and spark might lie beneath the skin of all the people I see day to day but only know on the surface. The song is about breaking rules and being passionate, bold, and original…and even more so, its about being proud of being all those things and letting them shine through. It's about being proud of the explosion, no matter how big, that makes each of us our own artist".