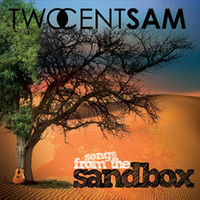 Band Members: Mike Logiudice (Vocals, Guitar, Harmonica, Bass), Jeff Burke (Guitar), Matt Shaw (Bass), Pete Bienkowski (Drums), Dan Hodgkinson (Keys, Vocals).
Review: In this overly saturated genera/market a plethora of artists coming out of the woodwork, armed with nothing more than a PC, Microphone, a guitar and a crappy sounding CD. They manage push their music out to the world and much of it do I dare say is substandard to say the least. Two Cent Sam is the perfect band name for these 5. It defiantly has an Indie-Rock swagger with a deep seeded suburban aftertaste. Musical overtones that will remind you of Presidents of the United Sates of America, White Lies, and even The MGMT. But on the other end of the sonic spectrum I can even hear but a modern twist of Incubus, Kings of Leon and Even Muse. All in all a well rounded CD that has much to offer the listener. My top 3 tracks on the CD are "War Cry, "This is the Way" and "20 to 12".            
Weakness: I give up!
Song Samples from the CD: Song samples from SONGS FROM THE SANDBOX available on I-TUNES http://itunes.apple.com/us/album/songs-from-the-sandbox/id445750046
Conclusion: Two Cent Sam stands out from other Indie-Alt bands within this saturated market. Their answer to mundane music is to deliver something unique with a signature sound to call their own. The strong suit of Two Cent Sam Stereo is their passion, solid musicianship and thought provoking melodies. The guys will dig them, that gals will love them, the crowds will flip out over them. One would be wise to keep a watchful eye on them over the years to come. TBC!
Rory Richardson
[Rating: 4/5]