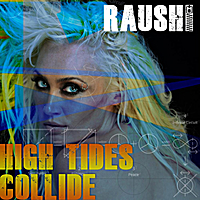 Raushi is a L.A. based band with a songstress rock n roller for a lead singer. It sounds like she has lived through one trial after another. The beauty of it all is how she always managed to come out ahead. This band continuously puts one foot in front of the other and collects more and more followers as they go.
The CD, "High Tides Collide" is cathartic and oozes with angst. Raushi is not taking anything from anyone and she tells it like it is with her powerful voice. She is not holding anything back and sings with full force from the depths of her soul. From beginning to end this band rocks hard with graceful talent.
Buy: http://www.cdbaby.com/cd/raushi2
Raushi is in a league of their own. They have a sound that is an eclectic rocker. They show no fear as they belt out each song with confidence and style. Each tune is well received and makes you eager to here what is next. The music is a mental work out. It cuts deep into your psyche leaving your emotions exposed. Dani has a knack for being soft with an abrasive edge.
They are taking music to a whole new level with their latest release, "High Tides Collide".   I see a promising future for this band and count the days until all their dreams become a reality. They have every right to have high hopes. With a talent like theirs, there is only one way to go, and that will lead them straight to the top. I hope they stay on track, because in my opinion success is inevitable.
Rebecca Hosking – hoskingrebecca@gmail.com
[Rating: 5/5]