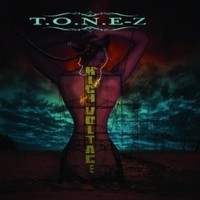 Production credits: T.O.N.E.Z. Hopsin, Arjae Knox, Life & Death, JM730, Koncept,   Tokerface, Eurostarz, Mr. Mikey, DJ JSI, Naydee & Julian.
About the Artist: This is the latest release from Rapper T.O.N.E.Z entitled High Voltage. Reading now from his bio: Rooting back to the origins of hip hop as the younger brother of hip hop legends Special K and T La Rock T.O.N.E.Z.'s bold style has lit up the entertainment world and leaped him from acclaimed hip hop artists to a certified artist. This latest release features a fully loaded 14 track catalogue via a plethora of production support T.O.N.E.Z. brings to the table.  
Review: I always listen to the opening track extremely carefully. It's the opening track the artists has personally selected to hit your ears first. The opening tracks "They Don't Want It', "Inspire" and Spot Light"   set the stage perfectly for this CD. It was a great string of songs that stuck in my head and had me eager for what lied ahead. All in all this whole CD is brilliantly delivered with a hooky bass driven sound and flowing rap compositions that will remind you of classic Scarface. Too Short, and possibly a few others I can't think of at the moment. To be honest I can't say enough about T.O.N.E.Z. and his overall vibe, production expertise and overall songwriting virtuoso. He's amazing. I will also go on record to say this is one of the best Rap CD's to come across my desk this year. This guy is a Record Deal waiting to happen. Favorite piece on the CD is a toss up between "Inspire" and All I Do is Hustle."      
Criticism: All songs over 4 minutes tend to drag you to the finish line. There is no barcode on the flipside of the CD indicating retail non-compatibility. There is no indication anywhere on the CD as to what year it was released and the 1 panel insert is all you get. The CD itself is not made of quality Silk Screen material. All of the above is not typical of a Professional, Gold Standard CD release. The mix is extremely bright like   A BOLD FONT IN YOUR FACE FOR $45 + MINUTES. I do understand these types of mixes are designed to maximize radio marketability but I'm not a fan of this approach.  
Downloads & links: Music can be heard at Purchased at AMAZON
http://www.amazon.com/High-Voltage-T-O-N-E-z-Explicit/dp/B006GBGYBG
Final Word: If there was one word I would use to describe T.O.N.E.Z. it would be passion. This CD will simply make your day more invigorating, but beware T.O.N.E.Z. will push your mind, spirit and soul into uncharted waters. If you want the truth look no further. If you want a rapper that spits rapid-fire rhymes into your mind look no further. T.O.N.E.Z. takes no prisoners and is one artist not so easily pinned down during the first listen to him. Let me go on record and say T.O.N.E.Z. is comparable to a musical wake up call. In close "High Voltage" delivers everything the title implies. WARNING: High Voltage" will shock you into musical submission.
by Michael Rand edited by Cyrus Rhodes
[Rating: 4/5]