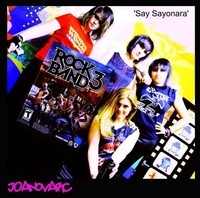 About the Artist: All female UK rock band JOANovARC just released their latest single: "Say Sayonara"   This is one band that's been tearing up UK stages and has made a few stops in the US, recently performing at the Florida Music Festival. American fans can look forward to a full tour in the near future.   Also notable is their explosive in ROCK BAND 3. Cited influences include: Foo Fighters, Kings of Leon, AC/DC, Paramore, The Pretenders, and Nickleback.
Review: "Say Sayonara" is one release that certainly doesn't disappoint. This is one band that brings to the table effective songwriting with an amazing high-energy rock driven sound delivered via a cutting edge Alternative/Grunge rock sound. JOA even touches on Hard Rock and Punk. This single is quite entertaining with an aggressive vocal front from vocalist Sam and lyrical content that gets deep in your grill. Clearly one can see JOA is a total riot both live and in the studio. Overall this single was a wild ride which will have you listening on the edge of your seat. Music reminded me of a cross between Joan Jett, L7,and Paramore. All in all — the piece is wonderfully simple but masterful in their overall arrangement. There are some fantastic moments on this piece which gives it an amazing feel when connecting with a potential fanbase. What's more, the explosive playing of JOA is never once called into question. They clearly have all the solid instincts required of a marquee talent. .
Criticism: None
URL: —www.joanovarc.co.uk.
I-TUNES – www.joanovarc.co.uk.
Conclusion: "Say Sayonara" is clearly an explosive new single from an explosive new band from the UK.   I must admit "Say Sayonara" sucked me in like a powerful drug and refused to let go long after it was over. This usually indicates he is something special about the artist deserving of praise, recognition and musical fame at the international level. .
Drew Blackwell
Wellington, NZ
[Rating: 3/5]