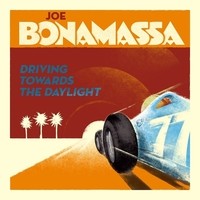 Making 13 albums in 12 years, is a feat in itself, not considering the literally thousands of shows Joe has done in that time period.   Joe and producer Kevin Shirley reunited to take a trip back through Joe's blues roots, with a few originals added into the mix.   Brad Whitford, Anton Fig, and Australian singer Jimmy Barnes make guest appearances.  
A soulful treatment of To Much Ain't Enough Love, features the bluesy/ballsy Barnes on vocals.   Barnes and some of the guys from Journey actually wrote the song.   Joe's version of the Tom Waits penned New Coat Of Paint, is a nice, slightly different treatment, with a "Town Without Pity" feel.   The Willie Dixon tune I Got All You Need is a nice bluesy shuffle, with some tasty B3 thrown in.  
[youtube wTG-bCMG05E]
An original, Dislocated Boy is a nice departure with traditional blues rhythms.   The title song has Joe doing a rare, slower piano led ballad.   Howlin' Wolf's Who's Been Talkin' features some actual Wolf narrative at the beginning.   Bill Withers is represented with a more down and dirty version of Lonely Town, Lonely Street.   Robert Johnson's Stones In My Passway is done with some great sounding guitar/slide guitar; the way RJ probably would have done it if more wattage, Les Paul's and Marshall's were available back then.    
One of Joe's attributes (other than being a journeyman vocalist and guitar slinger) is the way he can deliver a classic song with a few neat twists and turns.   A lot of the old blues tunes, weren't heavy on licks, but Joe has a road case full of them to use.   A nice touch for guitarists, is Joe noting in the liner the various vintage amps and guitars he used on the recording.   A nice ride down blues street!  
By RME