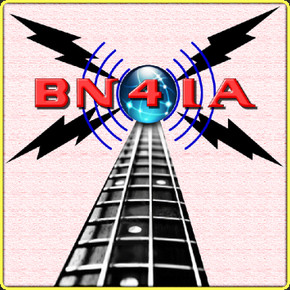 Hello all Skope readers out there! I want to first off say Happy 4th to all our USA readers out there. May your beer be ice cold, your burgers & dogs hot off the grill, and music loud! My guests today could not be more perfect as the USA celebrates how we started a revolution and gained freedom & independence. Cutting Edge is a band that is doing this within the music industry. These guys have a HUGE following all over the world with a true cult fan base which I am part of. The industry will not embrace them with record deals or radio play because they do not fit that manufactured sound & image. Not to be stopped by the machine, Cutting Edge continue to put out hit music and they are now promoting their radio venture, The Broadcast Network For Indie Artists. The purpose of the BN4IA network is to give indie recording artists a level playing field when it comes to getting their songs on radio and television stations around the world. Join us this weekend as Dave Pesnell talks candidly about how he balances Cutting Edge & BN4IA, why the industry is so crooked, how BN4IA can change the game for independent artists and much more!
Stoli: Where are we talking from today and do you have any fun trips you are taking this summer?
Cutting Edge & http://bn4ia.com: We are currently in Las Vegas, Nevada.   We are preparing to move our band and our radio network here.   I feel it is going to be better here, with all the access to music talent and Las Vegas is so easy for people wanting to do business with our band, our record label or radio network to get to.
Stoli: Please offer readers a brief intro into who you are and how you started the popular band Cutting Edge?
Cutting Edge & http://bn4ia.com: Back in 1998, William Zimmerman, Liza Pesnell and myself (David Pesnell) go together to do a funny song about Washington D.C. called "D.C. Shuffle".   We recorded it and did a couple of dance mixes to it.   It got picked up by record pools and college radio stations and before we knew it, the song was charting on dance charts all across the country.   We had no intention of starting a band, but with the success of the song, we recorded an album called "Humongously Yours" and had great success with it.   From that album, the song "Without You" hit number 20 on the commercial charts, "Love Police" hit number 20 also, "It's Time" hit #45, "Judas of D.C." hit number 35 and "If The Walls Could Talk" hit number 11 on the Billbord Hot Single Sales Charts.   All the songs did well in the international markets also.
Stoli: People around the world are obsessed with Cutting Edge but the music industry has not been so kind. Why has this been and do you feel like maybe you guys do not need the greedy and blood-sucking music industry?
Cutting Edge & http://bn4ia.com: So far we have been doing it without the big players of the music industry.   I think part of the problem is the music industry does not know how to really promote new music and more so a band that has had several hits over the years on rock charts, top 40 charts, and AC charts, plus some of our songs even fit in an R$B genre.   That is what sets our band up differently from other bands, we can work to songs at the same time to different genres.   In June 2011, we became the first independent band in history and only the fourth of any group (Beatles, Beach Boys and the Bee Gees were the others) to debut two different songs the same week on the Billboard Hot Single Sales Charts.   The song "Without You" (a love ballad) was on the chart for 8 weeks and peaked at #7 while "If The Walls Could Talk" was on the chart for 7 weeks and peaked at #11.   This gave us two of the top 20 selling songs in the world for 7 weeks.   Best yet, they were two different genres with the song "Without You" being an AC song and "If The Walls Could Talk" being a rock song.   Would never have happened if we had been signed to a major record label.
Stoli: Would you say that the Illuminati has anything to do with this and do you believe in that conspiracy theory?
Cutting Edge & http://bn4ia.com: I believe that there are people who control events, including financial markets around the U.S. and also the world.   I have also been told that people in the music industry caused our songs to drop off the charts.   How do two songs stay in the Top 20 and hit #7 and #11 and totally disappear off the charts the following week.   I think we made someone nervous, but was it the Illumiati, I doubt it.   I do not believe we are big enough to concern them, but they yet again, a lot of our songs are protest songs against government and big business.   We were even approached by some people from the "occupy movement" to use a couple of our songs to raise money, but we never able to figure out who was in charge and how the money would be spent if we did.   I think we might be open to something like that if it was peaceful demonstrations and the money from the sales of our music went to the right place.   Not sure though.
Stoli: I am really excited to talk about http://bn4ia.com. Please tell the readers how the radio network came to be and what you are looking to accomplish with this for Cutting Edge and other indie bands?
Cutting Edge & http://bn4ia.com: We started the Broadcast Network For Indie Artists to help ourselves and other independent bands cut through the B.S. of the majors in the music business.   As I have already said, our songs "Without You" and "If The Walls Could Talk" were inside the top 20 of the Billboard Hot Single Sales Charts for eight weeks, further, we had seven songs chart since July 2011 including "Your Love Is My Oxygen" (#24), "Goliath" #11, "Let Your Body Rock(#5), "She Wore Red" (@2) "F—The IRS" did great and now "Venomous Love Affair"is #22.     What people do not understand is really how well the secondary markets supported these songs because we did not have a single Clear Channel Station, CBS or another major radio network on these songs.   How well could these songs have done with that support.   One individual who used to be with Warner Brothers told us we would have had at least three #1 songs if we had that support.   We have gotten tired of fighting that battle, just like a lot of other bands out there.   Also, we have reports from Mediabase showing our radio airplay, time it aired, who the DJ was and station and yet our performance rights organization says we do not have any money coming to us.   Finally, we have been killed by sites who sell our music and do not pay us.   We just got tired of all this B.S.
So we had a relationship with some small independent radio stations who were hurting financially due to the economy, so we all got together and Cutting Edge formed the BN4IA radio network.   According to Barix, which monitors the stations broadcasting our programming on a 24 hour basis, we now have over 400 radio stations around the world who have jumped on our programming.   They love the fact we play independent recording artist 24/7 and the best thing is the fact the radio stations are coming to us.   We now have added Indie 98 FM in LA and their network.   We were surprised to find over 16 stations in the Philippines playing our music and over 37 in India.
We have now started broadcasting by Galaxy 19 satellite to all of North and Central America with over 25 million businesses and homes and in July we start broadcasting to Europe and the Middle East who have over 200 Million homes and businesses.   So we can expose independent musicians to a world-wide audience.   Another feature of BN4IA is that we have just completed the first phase of a store site so the independent artists can sell their music on our radio site; this way listeners can go right to the site to buy the music that they like on the radio network instead of having to search for it on the internet.   We are also in the process of building a site to have 24/7 music videos broadcasting by satellite around the world this fall. Pretty cool stuff.
Our goal now is to find a music publishing company to work with our music and the independent artists on our radio network.   A lot of them would like to sign to our publishing company (Magenta Rose Publishing) for representation, but we need a publishing company to come aboard and run it.     We also are looking for a good booking agency who wants to work the bands getting radio airplay on the BN4IA, including our band Cutting Edge.   If any ones a good music publishing company or a good booking agent who wants access to bands being exposed world-wide, give a call.
The biggest problem we are facing right now is that we are using funds that we wanted to use to promote the music of our band for BN4IA.   It is frustrating.   We had a couple of investors come to us with deals, but we want to keep this 100% independent, not tie the majors into it.   So far the investors who have approached us want to turn this into a regular corporate feed radio network and we have tried to get them to understand that we have doubled the size of our radio stations in only 2 months because people want independent music, they want new music from new recording artist and not from the B.S. being feed to them now.   And this is even more important since Clear Channel is moving into college radio; which the government should not be allowing; but hey, they throw so much campaign money at the politicians in Washington D.C., they can get away with anything they want.
Stoli: Where & how can readers listen to and submit music to be played on the stations?
Cutting Edge & http://bn4ia.com: If you are near a BN4IA radio station, that is a great way to start, but you can also go to our website at http://www.bn4ia.com and listen to the station, you can listen to it if you have a dish that picks up the Galaxy 19 satellite, you can hear us on your computer or smartphone world-wide by going to shoutcast and putting bn4ia in the search bar or finally, you can go to http://xboxradionetwork.com/ and http://usatodayradio.com/
Stoli: What would you say that you are looking for in the music that you will choose to play?
Cutting Edge & http://bn4ia.com: At this time, we are looking for rock (no heavy rock or metal), pop, Adult Contemporary, Top 40, R&B (no rap) and all kinds of dance.   We actually have the weekend dance party on Friday Nights that is even being picked up by radio stations outside the radio network.   The program features great DJs and mixers like Ricky Ric, DJG, DJ Zilos, Mike "Thunder" Pennino, Dave Gadbois and Timm Hines.   All of these DJs are great and have had several hit mixes on their own, so the Weekend Dance Party on the BN4IA starts off at 9PM (Las Vegas Time) every Friday and Saturday nights.   We have even gotten a few emails of actual dance parties around the world partying to the station.   Funny, they have a club in Australia partying to it around 1 or 2 in the afternoon.   LOL, it is great.
We also have some great band on the radio network, including The Particles, Leadership By Assulat, Naked in Public, Oblivious Bob, Larry Rush, Sweet Tuesday, Beatrice Love, Jessica Belkin, Shred Rot and others.   Of course, we throw in a little bit of Cutting Edge in there.
Stoli: If it was up to Clear Channel they would own all radio stations with all the same music. How can we the people fight this madness and support indie musicians?
Cutting Edge & http://bn4ia.com: This is what we are attempting to do with the BN4IA.   Radio and video world-wide by internet, terrestrial radio stations and satellite.   Adding in a music store where listeners can buy the music and if we can find a booking agent and music publisher, it is a home run for the independent recording artists.   But the thing independent recording artists need to do is promote their music, not set back thinking it will just happen for them.   We ask the bands we have on the air to supply mp3s saying something like "Hi, this is (band name) and you are listening to our song (name of song) on the BN4IA.   We do not charge for it, the band simply supplies the mp3 and so far in two months, only one band has done this and it is really sad. When bands do things like this, it makes it more personal with the listening audience.   On our site, we tell bands to link their website to our radio stations and tell concert promoters, club owners and who ever else they want to listen in, it helps bands get concert dates, but the bands do not do it.   It is like they do not understand they have a great opportunity for exposure and they do not take it.   We even offer bands to call in for a 5 minute interview and we will play one of the songs, but none have done it.     It seems bands want to complain about problems in the industry but they do not take the steps needed to get exposure.   Our band does all of these things and we have been able to go out and put together a radio network.   So I do not understand the lack of motivation on the part of the bands to seize the opportunity.   I would love to have a couple of bands send in mp3s, do interviews and link us to their sites, we would immediately increase their spins because they are out there promoting their music.   That is a big part of the problem is bands do not understand how to promote or they do not want to put out the effort.   I don't know.   There are bands being played on our radio network that are better than Cutting Edge, but we are making noise because we are doing everything we can to sell our music.
I also think there are a lot of people in the music industry complaining about how dominate the companies like Clear Channel are, but hey have no interest in doing anything.   We have people come to us and want to be involved with what we are doing and we are open to working with them and then they don't do anything.   I think the independent music industry is very complacent.   We have all these radio stations broadcasting music, satellites broadcasting and you can hear us all over the world and yet everyone wants to work with us, but no one wants to work.   LOL
Here is a simple fact.   We have the radio network, we have shown we can promote music with our success with Cutting Edge.   Once we have a music publishing company administering our music and a 'legit' booking agency working with the bands getting airplay on the BN4IA…..then watch out, because all the pieces are now in place.
Actually, the thing that makes us really laugh is you would think a major record label would be all over this.   Think about it, if a major record label signed Cutting Edge, they not only get a band, but they get broadcasting network.   LOL.   Best yet, they could use the network as a farming system (like baseball has triple A leagues) and utilize BN4IA as a place to develop up and coming recording artist.   If I was President of SONY or Warner Brothers or EMI, I would be all over this in a heartbeat.   I do not think record labels know how to think out of the box.   Of course, we would never want to give up control of the radio network.
 
Stoli: How are you juggling both Cutting Edge & http://bn4ia.com?
Cutting Edge & http://bn4ia.com: It is really hard.   We are trying to stretch dollars for promoting the music for Cutting Edge to cover Cutting Edge and BN4IA.   One of the biggest helps we have had is Mr. Kazuhito Koike who now runs the company offices in Tokyo, he actually opened an office in Ginza.   He is working hard to put together recording artist out of Asia for airplay on BN4IA and he has been a great help in all other matters, including helping us release a new album for Japan in August by Cutting Edge called "Unknown".   That is also why bands should be promoting hard on BN4IA as we can help them so many other ways.
Stoli: What is the most exciting thing about having such an indie approach to your projects and seeing the people respond in kind?
Cutting Edge & http://bn4ia.com: I walked into a store to pick up a long "duster" coat with another Ryan Smith, who plays bass in our band and we were talking about one of our songs "Every Time I Try" and the girl helping us said she loved the song.   At first I thought "ya right" and then she started to sing it.   Blew my mind.   It was also pretty cool signing an agreement to have a Karaoke company add our song "Your Love Is My Oxygen" to their song list.   the thing I love the most is having people become friends with us on our band (Cutting Edge) Facebook site.   We have a fan page and a regular page and we love having friends on our regular page so we can interact with them.     We also have a page now for Broadcast Network For Indie Artists and one of us is on these pages at least once a day.
[youtube Uf2IIvfoQ6I nolink]
Stoli: I love your song "F— the I.R.S." Do you feel like the US government cares about the citizens and that Romney & Obama are really the same thing?
Cutting Edge & http://bn4ia.com: I really feel that politicians do not say what they really believe, they only say what they feel will get them elected.   I also feel the government is so big that it cannot function.   I feel a lot of the people really have some good in them, but the politics of getting something done that is good for the people cannot get done do to the size and different interest in the government.   I also think the biggest problem is that the U.S. is so diverse with so many different interest, how can you get things done to benefit.   There are so many issues and so many view points on the issues, how can anyone accomplish anything.
Stoli: What is coming up for Cutting Edge & http://bn4ia.com and where can we follow you online?
Cutting Edge & http://bn4ia.com: As I said above, we need to find a good music publisher and booking agent to work with artists on the BN4Ia and also Cutting Edge.   Once we do that, then the BN4IA will be moving along at a good pass.   I think it would be good to find someone to handle advertising sales for BN4IA, to get advertising revenue coming in.   We have some great people involved with BN4IA so once we get these tow items in place, as a band, Cutting Edge can concentrate on touring.
It has been frustrating for us as a band and doing a concert tour.   The major booking agencies do not want to work with us because we are not signed to a major record label and a few of the smaller booking agencies we had discussions with do not want to work with us because they only work with smaller venues like nightclubs.   We are almost to the point of trying to put together the funds and promote ourselves on a concert tour.   We would actually like to find an investor for BN4IA who can come with enough funds so BN4IA can promote the BN4IA Independent Artist Concert tour and have 3-4 bands from the stations play list do the tour.   Have two bands headline the tour and have other bands from various regions open for the tour.   Be great for the bands, be great for the BN4IA and the investor would make some good money.
I guess we will see how it all comes together by the end of the year.
Broadcast Network For Indie Artists: http://www.bn4ia.com
Cutting Edge Facebook Page: http://www.facebook.com/cuttinge1
Cutting Edge Fan Page:   http://www.facebook.com/CuttingEdgebandAZ
http://www.facebook.com/broadcastnetworkforindieartist?ref=ts