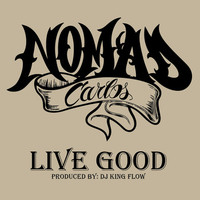 Newsflash: Jamaican born Hip Hop artists Nomad Carlos just released his latest single "Live Good" produced by DJ King Flow.
This is not the first we've heard from Nomad Carlos. Raised in Kingston from the age of 5, he worked hard through the ranks of Jamaica Reggae and Dancehall music to become one of the pioneers of modern Hip Hop in that region. To quote Carlos: "We as Hip Hop artists, producers and people of interest had to come together and make it happen. It's a place for the scene to gather and vibe with our local following and supporters. It's been successful so far and is definitely helping to propel the scene."
This latest single have much to commend them. Admittedly, there's a whole lot of variety to this arrangement and performance. That's because it has many things working in his favor. First: the lushly layered production expertise of DJ King Flow delivers the goods. Second: His look sound, look and spirit will no doubt mystify many females. Third: His overall appeal (vocals and visuals) delivered via top flight passion play and full tilt reckless abandon In a genera not known for it's amazing vocal performances, Nomad Carlos smashes through all that with his emotion and a smooth as silk timber. All of the above make for very deadly combination. Even more impressive is the music itself which is commercially viable sound featuring silky Saxophone, infectious rap flow against a thick bass driven groove that will get you out on the dance floor. I can hear this song on the Radio this Summer and I can hear this a party. This piece is amazing with a polished sound, top flight melody and a grand slam chorus that's invigorating for the body, mind and soul. I like how the Chorus stays in your head — a trademark of a hit waiting to happen.
"Live Good" is an endearing song from Nomad Carlos that will no doubt spark interest nationally Yes – I could hear this at a party, club or on the radio today. Yes — I could go on all day about this phenom from Jamaica. But in the end you have to check out Nomad Carlos via the many links below.   So what are we waiting for? Good question — Nomad Carlos that's who.
I look forward to checking out his Full Length release "Me Against The Grain" due out this Fall.
REVERBNATION – http://www.reverbnation.com/nomadcarlos
FACEBOOK – http://www.facebook.com/NomadCarlos
BANDCAMP – http://nomadcarlos.bandcamp.com/
by Mindy McCall
[Rating: 5/5]