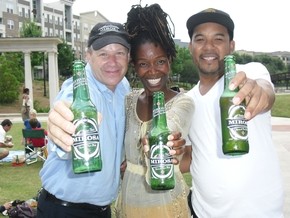 We're back!! You'll be happy to know that many positive things have happened over the last few months — we'll update you soon! Here's a special treat – music entrepreneur Stephen Stone ala Ruffhouse Records (Kris Kross, Cypress Hill, Fugees, Lauren Hill) has a new Atlanta project…
Around the end of May 2012, Mr. Stephen Stone invited me to an event called "Music In The Park," an event he put together with Media Moore and Lee Danja of the prestigious Lee Danja Worldwide PR firm, held every Thursday night between 6:30 and 9:30 p.m. in Atlantic Station's Millennium Gate Park on 17th Street.   Atlantic Station was soon to be the permanent home of the London-based pop sensation music group, ANYTHING BUT MONDAY.   The girls in the group thought it would be a good idea to start giving out free beer to everyone in the neighborhood prior to their arrival, so when they actually did arrive and started creating traffic jams, people would be less inclined to be ticked off with them. When I made it to what I call the "park under the arch," music was playing and people were gathering to enjoy a show by a wonderful local music group called Sol Star.   As it turns out, the group is sponsored by Anything But Monday; along with Mirosa Beer, and there was an ample supply of Mirosa for everyone in attendance.   On top of that, there was free Mirosa Beer pound cake made by the Pound Cake Company of Atlanta…   and it was out-of-this-world delicious!
I came to discover that Stephen Stone's newest music project was Anything But Monday and that the girls themselves actually owned the Mirosa Beer Company, which is distributed by the distributors of Anhueser Busch.   Moreover, I learned that the Anything But Monday girls were involved with the Pitbull tour, plus they're the first women in the world to own a beer company!     The plan was for them to move to Atlanta for a double initiative: the official launch of their beer company, and to release their music for the first time in the United States. On a side note, Forbes magazine is already courting the story of these amazing "artistic entrepreneurs." This summer, the girls are going to host a huge "party of the century," with swimming pools filled of Mirosa Beer, chicken, hot dogs and hamburgers cooked with Mirosa Beer, an array of Mirosa Beer deserts… and Mirosa beer shampoos. Media Moore of the PR firm handling this massive event hinted the party will be an inferno and "the sexiest, wildest and most fun night on the face of the earth–one day, folks will brag to their grandchildren that they were there!"
PIC = THE 3 BEERS — Stephen Stone, Media Moore and Lee Danja
[youtube QrzzbKgzxo8 nolink]
MUSIC = Just One Night (with Ne Yo) – http://soundcloud.com/anything-but-monday
Thanks and take care!
LA Jackson – 'da musicmon' – musicmon101@gmail.com
"NOTHING IS IMPOSSIBLE IN GOD'S WORLD"
TO ALL PARENTS: Get this Bernard Percy book, for you AND your kids!!!   Just go to www.howtogrowachild.com – I know the kids that helped write it!!!
Get the new MKM EXPOSER VOLUME 2 Compilation –   NOW through www.bfmdigital.com and at Amazon, eMusic, imeem, Yahoo Music & iTunes:
Coming your way soon: the MUSICOLOGY book series!! Get your taste buds wet at: http://ezinearticles.com/?expert=La_Jackson
See our affiliated artists at www.reverbnation.com/label/mkmentertainment.   With more than 100 featured acts, millions of exposure views and over 1.5million plays… we are STILL counting and keeping it moving right along!!
We are building our channel: http://www.youtube.com/mkmworks