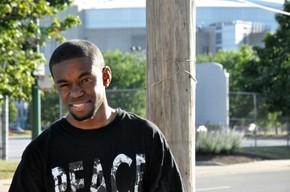 You know some days, it's good to be me. Leaving New England behind for a few days for some fun in the sun in Tampa, FL. Being that I am in my mid 30's I am fortunate enough to have seen hip hop music grow and mature over the years. Many older hip hop fans cannot let go of the past but I have. There are some emcees out today that are just as good as what I was listening to 10 years ago. My guest today has got me real excited for his lyrical ability, beats production, and hooks. Sid Sound is coming out of Chicago and he has a full album 'Lightspeed' that he is giving away for free. That just shows how much he believes in his music that he will give music away for free now knowing it will pay off later. Join us today as Stoli & Sid Sound talk about everything from the new album, Chicago pizza, producing for other artists, and much more!
Stoli: Where are we talking from today and how is your summer starting off so far?
Sid Sound: We are in Chicago, IL living well. This summer has been great for me so far.
Stoli: How has growing up in Chicago influenced the way you rhyme and what you choose to speak on in your songs?
Sid Sound: Well of course growing up I listened to all of the Chicago legends like Do or Die, Common, Twista, and so on. When you live in such a big city like this you just get a chance to see all of the ups and downs and I learned to express it in my music.
Stoli: How did you get the alias Sid Sound and when did you see hip hop as a career instead of a hobby?
Sid Sound: The name was given to me by Kris Bills when I started producing about 3 years ago.
I first thought this would be my career when my song "Runaway" was played on WGCI, which is the biggest radio station in Chicago. This was two years ago.
Sid Sound – 'Lightspeed' Free:
http://www.audiomack.com/album/sid-sound/lightspeed
Stoli: You are a producer and emcee. Give us some insight into your studio equipment and how you sit down and create a track?
Sid Sound: Well I'm a frequent user of Native Instruments Maschine but I also use Reason. I pretty much just sit down on my keyboard and play around with some chord progressions and when I hear something I really feel I'll add the drums, bass, etc.
Stoli: I am really feeling your album 'Lightspeed'. You have 16 tracks on there which is hot. How long were you putting this album together and how new are all these tracks?
Sid Sound: I've been working on this album for a little less than 2 years. I probably recorded about 35 songs over that time period. All of the songs are about 3 months old with exception of 3, so I really hit a good stride that I was comfortable with early this year.
[youtube yonXqLbZ0b8]
Stoli: The album 'Lightspeed' is out now for free. Why did you choose this strategy and where can we grab a copy?
Sid Sound: I felt that this project was too good to be slept on so I didn't want to scare people away with a price tag. You can grab the album for FREE at audiomack.com or http://sidsound.bandcamp.com/ It's something I want everyone to enjoy.
Stoli: Do you work with other artists as their producer and who are some emcees we should look out for that you are working with?
Sid Sound: Yea, I'm working with a few other artists like Kris Bills, FeSo, Jae Ali, and M Banlance. I've really been working on there projects exclusivly since I've finished mine.
Stoli: If I was to come kick it with you in Chicago where would we go to hear some live music & eat Chicago Pizza?
Sid Sound: It's so many good places to get Pizza here but I think my favorite is Giordano's for some deep dish. The best place to hear some live music is probably The Shrine or Buddy Guy's.
Stoli: I am loving your track "The Great Return." What is that song about to you and will there be a video too?
Sid Sound: "The Great Return" was the first song I wrote for the album so it kind of set the trend for the rest of the album. The song is about how quickly your life can turn around if you put your all into. There might be a video for it too, I have some really cool idea's for it.
Stoli: If you could get two minutes with President Obama what would you want to talk about with him?
Sid Sound: I think I'd ask Barack if he plans on changing our education system in the next year.
Stoli: Whats coming up for Sid Sound and where you @ online?
Sid Sound: I'm going to be doing a ton of shows this summer and really hitting the studio behind the boards. Anybody can get at me on twitter @Sidsound or on facebook.com/sidsoundmusic.