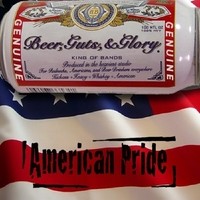 Upon first hearing the name of the band and accompanying music CD, I was immediately intrigued by Beer, Guts & Glory and "American Pride". I was not surprised at all to hear that the band truly lives up to their name. In judging a book by it's cover, so to speak, I pictured a punk, hard rock or metal band that lives up to their party namesake. After listening to their CD, watching fan videos and delving into their background, I saw that I was spot on in my assumptions.
I would classify Beer, Guts & Glory as a southern hard rock/metal band with roots in country and even some blues. Though the tracks offered on their "American Pride" CD were a bit grainy, the music is pure genius. It may be hard to believe, but the band had found a way to mix their country influences with a very hard metal groove. Adding in some hardcore, giving it that grainy sound of a band out to have a good time, and make all around them have a good time as well. On the track "Whiskey", the drum-line to start the song sounds peculiar to the point of being completely different than any I had heard before. Not so much a recognized steady rhythm as being a mixture of several rhythms at once. A very unique build-up to a song, that makes it truly their own. Being beat and bass driven by Travis Geary on the skins and Kevin Durant slapping the bass, vocalist Ron Brown comes in sounding like a cross mixture of Lemmy Kilmister, Phil Anselmo and Peter Steele, if you can imagine that. With the rasp of Lemmy and the deep baritone of Steele, Ron's voice is strong and very heavy. Add in the belting of Anselmo, to get everyone in the pit and banging around.
I could hear the bands many influences shine through on each track from "American Pride", but their sound is definitely unique in it's own right. The coursing rhythm of Sergio Cesario and blazing lead from Tommy "Break Strings" Monger is completely solid from both axemen. Both lending solos on different tracks that course through you but still stay true to the song and accompanying music. Adding to the party crowd pleasing atmosphere, Beer, Guts & Glory are best on stage. With great presence and crowd interaction, they would be able to get the deadest of venues hopping and ready to party.
On the track "Crucified", I could clearly hear the bands influence from Pantera shining through. Bringing to mind the song "I'm Broken", but not even close enough as to call it a copy. BGG still comes through with their own sound and shows their diversity and deepness in both lyrics and music. Forming catchy rhythms and then bleeding into mayhem that would have any pit stomping and bashing.
Beer, Guts & Glory are a high-energy good time southern metal band that are here to stay. Having that "It" factor and crowd pleasing attitude of let's just party and forget the outside world for a while. They put on great shows at local venues in Florida, but I can very much see them soon touring the country, if not the world. After watching footage from several of their shows, I wouldn't hesitate, if given the chance, to see them live. As well as encourage anyone with the means, to go to a BGG show.
I would very much like to hear what comes out of a professionally produced studio mixed and mastered full-length from BGG. With their unique mixture of genres, but swaying mostly on the heavy side, I very much can see this band making a very complete album. Catering to lovers of many different styles of music, walks of life and genre specific fans alike. The timing of the band is good and you can see they have a great camaraderie with each other. Feeding off of each others, and the crowds, energy to bring you the very best BGG has to offer. I very much enjoyed this disc, but was dismayed at the end for wanting to hear more. All four tracks on the CD were different from one another, yet still true to being the bands core. I feel that "American Pride" is just the preamble to what the band has to offer the world musically. They are definitely on the right track, and ready to rock the world with a new class of heavy music that isn't afraid to add in their blatantly different genres of interest, to make a sound that can only come from Beer, Guts & Glory.
Beer Guts & Glory Links:
Facebook: https://www.facebook.com/pages/BeerGuts-Glory/125961854154676?ref=ts
ReverbNation: http://www.reverbnation.com/beergutsglory
By L.White