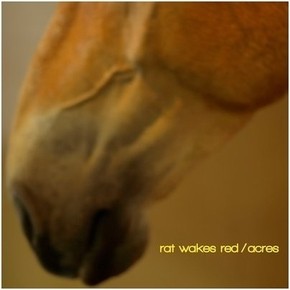 "Come Over" and "Your Way Out" from the album 'Acres', Rat Wakes Red's third full-length of five releases. Order the CD at www.ratdisk.com/order.html and get a free "Weekend" EP featuring the acoustic version of "So Much", track 14 on "Acres".
[youtube WwUbi471fI8]
Rat Wakes Red is in a constant state of mourning and wonder. "Acres", the recent LP, is an elegy to the dead and awakening which is very fitting since singer and multi-instrumentalist James Raftery happened to star in the 1993 cult-film Night Owl as a murderous vampire.
[youtube NC-j5EPbU9o]
"Acres" is a spectacle of simple sounds: piano, acoustic guitar, synths, organ, strings, woodwinds, drums, tin whistle and many, many voices. James sings, plays, plucks and blows. Jeral Benjamin returns to produce and provide violas while woodwind stars chime in to emboss the layered lather. Matt Raftery adds the needed kick from his drums while Hannah Fury lends her voice to "Always". The ensuing song service is sung from the heavens inside, like an internal choir and orchestra. It comes from loss, change, death, and new beginnings. A slow burn of sad, beautiful dark nights of the soul.