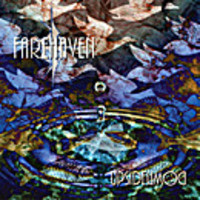 Have you listened to the Radio lately? Is it me or is something going horribly wrong with today's music. Do you remember when music actually had real instruments in them with real people playing them? How about good songs written by the artists themselves. How about live performances that where these artists poured their heart and souls into performing them. No way! Now what's the standard? A pretty face, cookie cutter songs, crafted via a microphone, some fancy sampling and an overly loud mix that sounds more like a commercial than a song. Talking to many people out there the magic is gone from modern-day music, and people are wondering my. Well I will tell you. Because too many artists out there are not being true to themselves with respect to their music and their expression. More artists need to be themselves and quit worrying about pay dirt. More artists need to be like Cincinnati's own Farehaven.
So across my desk slides the new 6 song EP from their latest release (Upside Down) released in 2011. What I heard really made my day. This latest EP has everything: solid playing, impressive writing, and yes top flight marketability that has commercial success written all over it. Above all it's a rock solid release that delivers a hard hitting rock edge that will remind you of Deftones, Foo Fighters, Brandon Boyd and even Hinder. Guitarist/Vocalist Sizemore and company possess more musical skill than any of the aforementioned acts as well, but the songwriting contains musical depth and doesn't sound like a commercial. Drummer Dan Durrant and Bassist Rob Jamison just add fuel to the fire completing the power trio. My favorite track is the title track and The Black Heart. My only criticism: The overall sound is a bit repetitive. It's hard to tell one track from the next. Of course this may not be true for the CD as the EP typically contains the more marketable material.
"Upside Down" EP by Farehaven a solid prelude of a release with many hard rocking grooves with a heavy guitar driven sound. This will no doubt transcend to a much larger scale as time goes by. It's a record that gives us a fresh glimpse at a hot new band from of all places Ohio. But hey with all due respects Ohio is hoem to theRock n Roll Hall of Fame and several amazing artists over the years. Maynard Keenan, Trent Reznor, The Pretenders, and Devo just to name a few. It definitely takes us back a few years — before everything started sounding like — well like everything else on the Radio today.    
Kevin Huber
[Rating: 4/5]