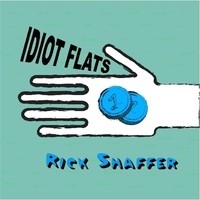 Until the release of his debut solo venture, I had never heard of Rick Shaffer. I am proud to say that ever since that initial review, I've never forgotten him and apparently he's never forgotten me either. So when I was asked to review this latest dose of Rick, I happily obliged. See, to me there is just something about keeping a sense of honesty to music and I personally feel that when it comes to his music, Rick Shaffer has simply never told a lie.
Following up his last album, Hidden Charms, in true Rick fashion he has continued to expound on his sound while sticking to his roots with Idiot Flats, his latest 10-track full length of bent-note blues, vintage garage fuzz and stripped down honesty. "Unforgiven Man" blasts at the intro with jarring blues finger lead over slightly dirty backing melody. The hallmark vocal delivery is eerie in how much Rick can effortlessly channel a young Jagger. Through the track he maintains his trademark "sense of urgency" with the lead still wailing through to the fade. The fuzz finally takes the lead on "Remember" while the finger-picking wail takes the undercurrent role. This is the facet where Rick shines most. I believe in "too much of a thing" but no matter how much fuzz Rick pipes from his rig he never loses control of the ethos of the track. The bluesy drone, guitar interplay and the vocal delivery find a commonality that makes the track mesh while allowing a full appreciation of the individual elements. Title track "Idiot Flats" continues the dirty fuzz with bent-note fills and a nasally twang in the vocal delivery; noteworthy in that what I notice is Rick is peppering this album with a dose of vintage Psychobilly/Honky Tonk. The minimal shaker/tambourine percussion keeps time in the background while the fuzz melody plods the track along over the bluesy picking at the foreground. What is dramatic about it is the multiple soundscapes and layers Rick can lay down and then morph into one harmonious drone. "Around The Bend" features a slide work intro over the scratchy backing drone. Hard luck Blues vocals bolster the dirty ethos of the track with what sounds like triple guitar interplay. Again, this track reeks of raw, organic grit that creates a complexity sum of the parts.
What's important to note is that Rick Shaffer doesn't put out new albums. What he offers is a series of recorded evolutions of a sound. Yes, the basic elements of blues guitar and 60s garage fuzz are ever-present, but the additional facets of vintage R&B, Honky Stomp and Hill Country rhythm can only be identified as evolutionary. And fittingly so, in that Rick isn't one to put out static music; this stuff moves and shakes. It vibrates and resonates. This isn't simple "listening music"; it's a sonic assault… an aural hostile takeover. And there is something special when an artist can command your attention without asking for it… such is the case with Rick.        
http://tarockmusic.com/idiotflats.html
by Christopher West – cwestlaz@gmail.com
[Rating: 4/5]