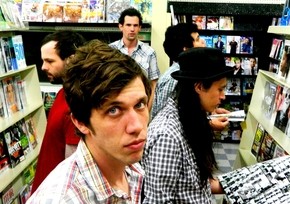 HILLS LIKE ELEPHANTS are ready to make themselves visible to you. The band, which has been breaking new ground in the San Diego scene, are ready to unleash their perfect brand of indie pop onto the masses. Releasing their first single titled "Invisible Ink," Hills Like Elephants are ready to invade your headphones.
DOWNLOAD the Incredible First Single from Hills Like Elephants "INVISIBLE INK":
The extraordinary track is filled with thumping drum beats, carefully picked melodies, bright and resonating pianos and singer Sean Davenport's dreamy yet upbeat voice. A little bit blues, a little bit Pavement, Hills Like Elephants seem to have the perfect blend that will immediately catch your ears. After all, that is what they have set out to do and they seem to accomplish it flawlessly.
March 27th, 2012 saw the band releasing their debut LP, The Endless Charade (Requiemme Records/ BMG Chrysalis), to adoring fans and curious critics. On the way to becoming one of the most talked about bands this year, Hills Like Elephants is a group that you should check out immediately!