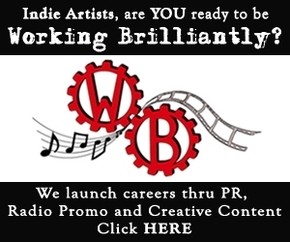 Working Brilliantly is a boutique PR, Licensing and Production agency founded by Jennifer Thorington and Samuel Markus out of California. They have been in business over a year now and both Jennifer and Samuel come from extensive PR and Production backgrounds. Their focus is to propel the careers of inspiring artists with integrity, passion, creativity and a concise aim for success.
They have quite a roster of artists already in their catalog and continue to grow everyday. Listing such artists as, Cameron Stenger, Jodi Shaw and Normandie Wilson to name a few.
[youtube IBKCWNhUERc nolink]
I had the pleasure of speaking with the CEO, Jennifer Thorington and asked her what were her career goals for this budding company and she explained, " There are many!   Our primary goal is building artist's careers based on their own aspirations as musicians.   We love to collaborate with artists to create impactful media that gains them more exposure. So, developing the production side of the company is definitely another goal.   At the moment we are in production of 2 animated music videos as well as in pre-production for 2 live action music videos. Our unique approach, honest presentation and true caring for each artist we represent is what makes us stand apart from other PR Companies and it is our goal to make this the obvious reason why we and our artists are successful."
For all the aspiring artist out there looking for career direction and exposure I asked WB what was the best way for musicians to get their attention and Jennifer replied, "They usually submit their music to us via email — admin@workingbrilliantly.com – and if we like what we hear, we will contact them with more info.   We have also used SonicBids, though their policy has changed to exclude submissions for management or PR, so we have had to use other resources to advertise.   These have included other music submission sites like Music X-Ray, word of mouth, Twitter and advertising in glossy magazines like WHOA.   We also offer a referral fee to anyone who sends a band our way that ends up on our amazing roster."
If your new to the business or not sure how all this works Jennifer and Samuel are very versed on the ends and outs and are always ready to answer any questions and guide their artists to the best of their ability. Listen and heed these words, their success depends on your success so you can rest assured they are out on the frontlines everyday fighting for you.
I asked them to explain to our readers what a day in the life of WB is like and they said,
"Man, this depends on the day.   We have a 2 year old so it is very important to juggle intense focus on the tasks at hand and giving him the attention he deserves.   Most days we are either contacting press, radio and music supervisors about a release, booking shows, creating materials for our new artists or developing media ideas for interested musicians.   We dedicate a lot of time to computer work and phone calls. Most days also include short periods of playing music and singing on our deck (which overlooks a gorgeous forest) as well as meditating on ideas to expand our business and creative ways to help our artists succeed."
I asked what was the catalyst that compelled them to start the business and they said, "Through our experience, we came to the decision that there was a need in the market for a PR service that operated more like a record label by working with the artists to develop a unique career path.   One that really gets to know each artist and what their exact career goals are and thoroughly believes that they are obtainable and whole heartedly aligns with those goals to create a unique and compelling way towards success.
So arose the desire to create a PR firm that is truly Working Brilliantly."
They continue to share their success and adjust their goals as the firm grows bigger and bigger. They said, " In the year we have officially been Working Brilliantly our experiences have far exceeded our expectations.   We work with the best indie artists in the world and are working as the PR firm for an amazing indie label whose artists are just as exceptional as ours.   We have helped every artist on our roster receive printed reviews and radio play, built a team of amazingly talented animators and started our journey towards becoming a full fledged production company."
There is no question that Working Brilliantly is built on solid values with the best intentions. They have put everything on the line for their artists and continuously go beyond the call of duty. They put the time and energy into learning trends and knowing what works and have catapulted numerous artists to new soaring heights. For more in depth detail to what they have to offer please visit their website at: www.workingbrilliantly.com. Bands can also submit their EPK's at admin@workingbrilliantly.com.  
By: Rebecca Hosking – hoskingrebecca@gmail.com