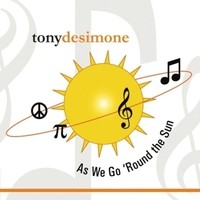 Well I never knew it took a rocket scientist to make great music until now. Tony DeSimone broadens his talents from the science realm to the music world. "As We Go 'Round the Sun" is a melodic display of awesomeness.
This 5 song EP is an expression of DeSimone's musical visions. He has soothing vocals that melt in your ears and takes over your mind. He has quite a display of string instruments from the ukulele to the guitar. The songs are catchy up tempo Americana tunes with a touch of Jimmy Buffet and Neil Diamond.
He does an amazing rendition of, "Suspicious Minds" and even blends in "Sweet Caroline", so sweetly. One of the most interesting arrangements I have heard in a long time. I love it when artists mix their own flair into well known songs and make it all their own. He does this nicely!
Tony DeSimone has definitely stepped up to the plate and is here making waves. His latest EP, As We Go 'Round The Sun, is fun, vibrant, fresh and exciting. It is a small package of 5 songs but trust me, big things are nestled inside. I see a bright future for this rocket scientist, I hope he expands his studies even further in the musical realm.
By: Rebecca Hosking   – hoskingrebecca@gmail.com