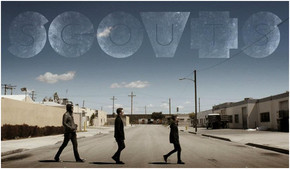 With their debut single "Skeleton" hitting streets last week, LA-based pop/punk act Scouts has just unveiled the official video for the single. The video, directed by Thomas Trail, was shot in North Compton, CA and gives the first glimpse of Scouts, made up of Morgan Freed (vocals, guitar), Stephen Soss (guitars, keyboards), and Jerrod Bettis (drums, keys, vocals).
[youtube -YQTZOg-SAg nolink]
"Skeleton" Video: http://youtu.be/-YQTZOg-SAg
Recorded in North Hollywood, CA at Clear Lake Audio, Scouts' self-titled EP, streaming for free on Facebook, showcases the group's stylistic sensibilities and offer a cross-section of their sound and direction. For more on Scouts, check them out on Facebook, Twitter, and Youtube.