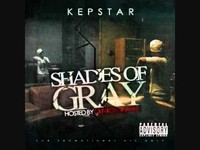 Hip hop is a style with elements of survival and ego inherent in its delivery. Most hip hop artists include the ego element, even the conscious hip hop genre, and the interesting thing is that in order for a rapper to rise, the presentation must be consistent from the ground up. Even if you're not the biggest fish in the pond, you'd better act like it or you won't get noticed. It's similar to martial arts. It's a proven fact that an attacker will retreat in over half of situations where the defender is unafraid, or even strangely cocky. As in martial arts, so in hip hop.
This brings us to up-and-coming New York hip hop artist Kepstar, who even within the heavy competition at every turn, is intensely dedicated and stands a good chance of recognition in the hip hop community. The buzz surrounding his new mixtape "Shades of Gray" is significant, and for good reason. He puts effort into his rhymes. When it comes down to it, the beauty of the art form is in the rhymes. The beats are critical. The production is critical. The groove is critical. Don't get me wrong. But the rhymes are the decider. They are the hip hop artist's very soul in poetic form. That's why some rise and some fall. Some copy and others take the extra time to dish out some truth. Kepstar takes his time with the rhyme (pun definitely intended) and it pays off, giving his ideas real weight and urgency.
[youtube 3ww3sJn8vq4 nolink]
Having Clinton Sparks host the mixtape is a wonderful thing, and it should provide more buzz and credibility for the release. However, I must admit, when I pressed play on the opening track "Goodbye Yesterday", Clinton's introduction was probably the loudest I've heard on a mixtape. Even worse, when Kepstar's verse starts, it's clear that the overall volume of the vocals here are a bit low. I know that mixtapes are mixed differently than albums, but in hip hop, hearing the MC loud and clear is very important. That being said, don't let it worry you. This is a minor gripe. You can still hear Kepstar's rhymes, which are sharp and intelligent like K-Naan or De la Soul. Kepstar's common themes throughout the mixtape are perseverance and optimism through life's challenges.
Musically the arrangements are more organic than most rap music, with lush guitars and beautiful atmospheres on many of the tracks. This suits Kepstar's uniquely open and emotional lyrical style. "I've Been Dead" is a great mainstream rap track that collides smoothly with pop and alternative rock. When Kepstar says he makes music, he means it. "Not Like Me" should satisfy fans of Lil Wayne or Drake who will be paying close attention to the young rapper's delivery, as he lays down a few doses of attitude. "1 Up", featuring Joe Budden, is one of the highlights of the mixtape, with an anthem chorus and an unbelievably inspired groove. Kepstar is on fire here with the lines "See 'em fading in my rearview. In other words, you could talk and I probably wouldn't hear you".
Anyone who doubts Kepstars very unique style should listen to "Do My Own Thing", which finds him sounding inspired as ever. The very dark and beautiful "Dear John" features refreshingly vulnerable lyrics and a tastefully gorgeous guest vocal on the chorus. "Shades of Gray" owes its classic groove to old school hip hop, and it suits Kepstar just fine to pay homage to his idols.
Without a miss on "Shades of Gray" and more than a few iconic tracks, this release promises to gain Kepstar a ton of new fans, and as a hip hop fan myself, I can say that it will be well-deserved.
http://reverbnation.com/kepstar
By James Moore @ james@independentmusicpromotions.com
[Rating: 5/5]