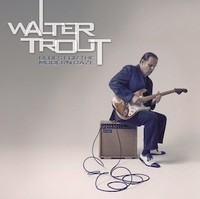 Being a well-respected blues journeyman carries a lot of weight with the title.   The question is always, after years of blues guitar slinging, how do you interpret the genre this time out?   If you're the writer, player, and singer, you have your job cut out for you.
Saw My Mama Cryin' is a slower paced piece with some clean guitar work.   Lonely is a story/ballad, a tale of typical life on the road.   The Sky Is Fallin' Down is a harp led slide played piece that affords tribute to the prophetic doomsday listeners out there.   Blues For My Baby is a slow B.B. styled traditional piece with just enough piano, with some nice and quick licks thrown in.   Recovery is a ballad that deals with personal issues that a lot of us can relate to.   Turn Off Your TV is an upbeat direct statement to all couch dwellers.   Lifestyle Of The Rich And Famous uses piano and guitar to get explain sliding down from the top and hitting rock bottom.   Puppet Master starts out in poem form and continues on in classic blues/rock formula.   Money Rules The World is the rocker of the release with that nice "Jimi" feel.   Blues For The Modern Daze deals with greed and delivers a warning.   Pray For Rain neatly sounds like Delta blues, plain, simple, and straightforward.
Walter has written and performed virtually every style of blues and the blues/rock progression.   As always, Walter offers up some traditional and also innovative guitar licks.   One of his attributes is that he never muddies the song up with overkill string work, instead concentrating on minimal effects, and licks with maximum importance.   A good idea always centers around a guitarist only using organ, piano, and harp as compliments, and not taking over a song.   And as always, a natural storyteller, Walter openly shares his personal issues as well as his takes on relevant matters.
By RME
[Rating: 3/5]