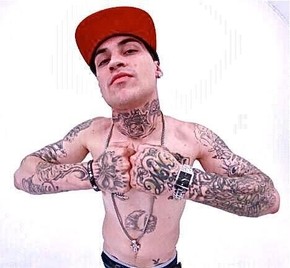 So this morning I am drinking my coffee watching Meek Mill's video for "Imma Boss." I am a fan of Meek Mill and it dawned on me how many hip hop artists like Rick Ross, Eminem, Jay-Z, Kanye West, just to name a few have helped bring up struggling emcees looking for that one shot. We need this more in all genres and my guest today is being brought up by ABM and Platinum Entertainment. I can be aggressive and crazy at times and when I heard Menace Demarco I knew I needed a Klonopin. Menace has just released his new four song EP and it is in an in your face, all real mix of genres creating a sound that is all his. I am really excited to have Menace Demarco on here to celebrate the EP release and talk about his troublesome past, being a tattoo artist, his disdain for radio, and much more!
Stoli: Where are we talking from today and are you excited for summer?
Menace: Right now I'm in sunny Southern California, and Summers going to be a blast!
Stoli: How did being put into foster care effect you as a man and as an emcee?
Menace: Being in group homes and foster care made me grow up way faster than a normal kid. I was a Man at 16, instead of getting good grades and going to school, i was busy running from whatever authority figure was chasing me at the time, but it forced me to be more independent, and Work for myself. I've never had a Hand-out from anyone trying to supported me in anything, that was until i met A.B.M., The CEO of my record label, Platinum Trini. Ent.
I-Tunes – 'Turn Off The Radio' EP:
http://itunes.apple.com/us/album/turn-off-the-radio-ep/id514135786
Stoli: How has you relationship with your family been affected by your childhood experiences?
Menace: My Mother made the State Of Washington My Gaurdian when i was 12, We don't talk, and my father died when i was 13 years old.
Stoli: How did you decide that you would leave a life of trouble and focus on music?  
Menace: Well, I came to cali originally on Vacation in 2009, saw how little it rains, and how many fly hunnies there was, and just decided to post up. i mean, I had to get away from the people that were acting a fool in order to stop acting a fool myself, and it worked. I haven't even had a Jaywalking ticket in over 3 years!!!
[youtube FzIbXlK8iL4 nolink]
Stoli: I am loving the song, "Turn Off The Radio." What is that songs message and meaning to you?
Menace: Basically, i came up with the concept of turning off the radio, every time i'd get into my car and hear the same shit on every station, there is such a thing as "too Much of a good thing" haha, and the songs being played over and over weren't even good, so i figured id speak up about it.
Stoli: Would you say that your music reflects your real life & personality?
Menace: Definitely, i try to be as Real as possible at all times, and my music reflects my opinion, and attitude about whatever I'm thinking at the time.
Stoli: How are you feeling about the release of the album 'Incredible Hulk' and what can we expect from the music?
Menace: I'm excited!!! This will be my first album and i was allowed to retain Creative control for the most part, so the music is a direct product of me, and my Imagination.
Stoli: How is it working with ABM the CEO of Platinum Trini Entertainment and being on that heavy roster of talent?
Menace: haha, A.B.M. has been doing this for awhile so its really dope to see the business part of the industry as well as the music part. Sometimes its stressful, but i know ill live up to, and exceed everyones expectations.
Stoli: What do you like to get into when you are not in the studio?
Menace: well, a lot of people don't know this, but I'm a Professional Tattoo artist and have been for almost 10 years now!!! i love tattooing, and when i go on tours I'm bringing my equipment with me just in case anyone needs some ink haha.
Stoli: Can we expect a music video and/or tour to support the album?
Menace: Yes to both! we will be releasing the Music Video for Turn off the Radio very soon, and i believe I'm about to head over to Europe to start the "Incredible Hulk" tour next month.
Stoli: What advice can you offer kids like you coming up in tough situations at home but still cahsing your dreams?
Menace: well, ill be honest: if i didn't have a terrible childhood like i did, i don't think that there would even be a Menace Demarco. If i'd had a caring family, and money i'd probably be a lawyer or something, haha so my advice would be to take whatever you can away from the situation you're in, and USE it to better yourself, fuel if you will, for the Fire.
Stoli: Whats coming up for Menace Demarco and where you @ online?
Menace: We've got a European tour in the making, in the addition of the release of "Turn Off The Radio", I'm sure once that begins we will have a lot more opportunities to put Platinum Trini on the map.
you can find me on twitter:@menacedemarco also my fan page at http://Facebook.com/TheMenaceDemarco and all my links, and music at http://Reverbnation.com/TheMenaceDemarco